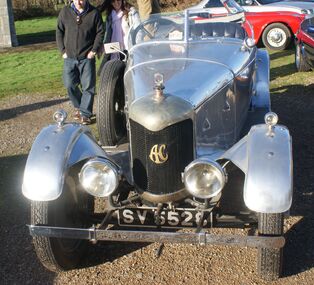 The AC 12hp was produced from 1921 until 1927.
The car had a 4 cylinder 1496cc Anzani engine that produces 28 hp. The engine used a Zenith carburettor. The car could reach speeds of up to 55 mph (89 km/h).
It had quarter-elliptic springs in the front and well. It had a torque tube drive with radius arms to the outer ends of the rear axle. The propeller shaft drove the three speed gearbox was in unit with a worm-drive rear axle.
The car had drum brakes on the rear wheel operated by the brake foot pedal whilst the handbrake operated on the transmission disk.
The body was an attractive sports body with a curved pointed tail finished in polished aluminium. Not many were sold due to car not reaching the guaranteed top speed when it went for a published road test and because the asking price was too high.
A stripped car with an underpan and aerodynamic refinements was able to lap Brooklands at 90 mph.
The car was advertised at £550 in 1922.