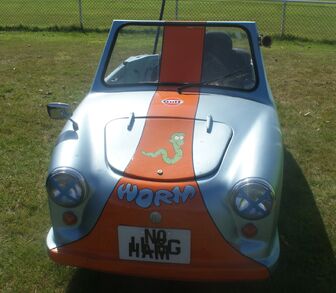 The AC Invacar was a small car specially adapted for use by disabled drivers.
History
In 1948, Bert Greeves adapted a motorbike with the help of his paralysed cousin Derry Preston-Cobb as transport for Derry. Noticing the number of former servicemen injured in the Second World War they spotted a commercial opportunity and, approaching the Government for support, "Invacar Ltd" was created.
During the 1960s and 70s the Invacar with its modern fibreglass shell, ice blue colouring and chain drive were produced in the tens of thousands. Developments including an extended wheelbase, wider track and use of Austin Mini wheels saw the Invacars right through to the end of the final DHSS contract in 1977. More than 50 variants would be produced. Besides Invacar a number of other manufacturers were licensed by the Ministry of Health to produce similar vehicles, including AC Cars, Thundersley and Tippen.
On 31 March 2003 it became illegal to drive an Invacar on British roads. The veteran vehicle could not stand up to modern day government regulations requiring approval under the Motorcycle Single Vehicle Approval Scheme as part of a standard set by the European Union. There were still around 200 Invacars in Britain prior to the 2003 recall and scrapping program. Hundreds of stockpiled Invacars in government warehouses were scrapped along with all their spare parts. A few examples survive in the hands of private owners and museums in Britain and abroad.
All Invacars were owned by the Government and leased to disabled drivers as part of their disability benefit. Their use had been in decline since the introduction of the Motability scheme - offering disabled drivers a conventional car with modified options.
Gallery