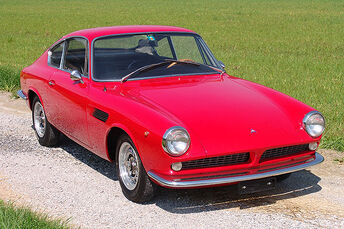 The
ASA 1000 GT
was a car developed by Giotto Bizzarrini from a Ferrari design, and manufactured by the company in Milan (in a factory owned by the De Nora Electrochemical Group) from 1964 to 1969.
The 1000GT model was presented in 1962, but production started two years later.
This small GT car featured an OHC 1,032 cc (63.0 cu in) four-cylinder engine designed by Ferrari engineers, for a Ferrari project, originally dubbed "Ferrarina." The original engine design was basically a four-cylinder, 850 cc (52 cu in) slice of a Colombo V12 from a Ferrari 212, complete with characteristic "clothes pin" valve springs, and breathing through two Weber 40 DCOE9 carburetors. The 1000 GT featured a double wishbone arrangement for its front suspension, with a live axle at the rear. Both ends of the car featured coils springs, tubular dampers, and an anti-roll bar, as well as disk brakes. The coupe model was bodied in steel, with aluminum for the hood and trunk lids.
A racing version of the 1000 GT Coupe had a 1,092 cc (66.6 cu in) engine which produced 95 bhp (71 kW); later versions featured 105 bhp (78 kW). Only a few of the cars were made, but they had a good deal of success at Italian sporting events.
A few larger four- and six-cylinder vehicles were individually built to order; almost all were prototypes. All had fiberglass bodywork.