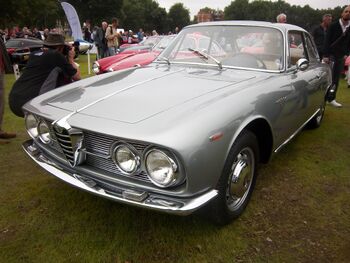 The
Alfa Romeo 2000
(series 102) is a car produced by the Italian automobile manufacturing company Alfa Romeo as a successor to the 1900.
First shown in 1957 on the Turin autosalon, the car was produced in two models, the Berlina with 105 PS (77 kW; 104 hp) and the Spider with 115 PS (85 kW; 113 hp) since 1958. In 1960, the Sprint was added. The engine was an enlarged version of the 1900´s four-cylinder displacing 1975 cc. The cast-iron block and aluminum head engine using single downdraft Solex carburetor produced 105 PS (77 kW; 104 hp) at 5300 rpm in Berlina and the version used in Sprint and Spider produced 115 PS (85 kW; 113 hp) at 5900 rpm with two Solex sidedraft carburetors. The 2000 Berlina had gearbox operated via column-mounted shifter making space for three people in front. In Spider version the gearchange was located in floor and until 1961 it was pure two-seater when 2+2-seater came available.
The four-door Berlina was manufactured by Alfa Romeo itself, while the two others were designed and manufactured by the design companies Touring (Spider) and Bertone (Sprint).
Only 2,814 of the Berlina, 3,443 of the Spider and 704 of the Sprint were sold worldwide because of their high prices. The 2000 was replaced by the six-cylinder Alfa Romeo 2600, produced from 1961.
FNM 2000
The Brazilian variant of the 2000 was produced from 1960 to 1968 by Fábrica Nacional de Motores. It had the same 1975 cc engine with 95 PS (70 kW; 94 hp). The car used the name FNM "JK", JK standing for the president of Brazil Juscelino Kubitschek, the name was later changed to FNM 2000. In 1966 two other models were introduced, the "Onça" coupe and the "2000 TiMB" (Turismo Internazionale Modello Brasile), which produced up to 160 PS (118 kW; 158 hp).[3] The FNM 2000 was replaced with FNM 2150 in 1969, it had bigger engine and revised styling. By 1974 the Alfa Romeo Alfetta look a like FNM Alfa Romeo 2300 "Rio" replaced the 2150. This version was based on older Alfa Romeo 1900 despite looking like Alfetta.
Gallery
Community content is available under
CC-BY-SA
unless otherwise noted.