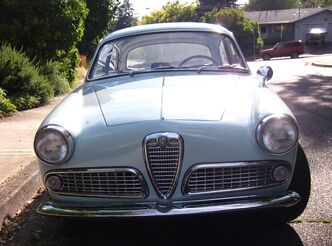 The
Alfa Romeo Giulietta
(series 750 and 101) was a subcompact automobile manufactured by the Italian car maker Alfa Romeo from 1954 to 1965. The Giulietta was introduced at the Turin Motor Show in 1954 and almost 132,000 were built in the Portello factory in Milan.
The first Giulietta model was a coupé, the Giulietta Sprint, introduced in late 1954. This was followed by a sedan in spring 1955 and in mid 1955, the open two-seat Giulietta Spider, featuring convertible bodywork by Pininfarina. In 1957 the most powerful version, called Giulietta TI (Turismo Internazionale) was presented with minor cosmetic changes to the hood, the dial lights and rear lamps. Carrozzeria Colli also made the Giulietta station wagon variant called Giulietta Promiscua. 91 examples of this version were built. Carrozzeria Boneschi also made a few station wagon examples called Weekendina.
Restyling 1959
A new version of the Giulietta debuted at the Frankfurt Motor Show in 1959. The fuel tank was now incorporated in the right rear fender and was equipped with a door. The nose was redefined with more rounded wings, recessed lights, new headlights and grille rings revised with horizontal bars. The interior was much more organized and the dashboard instruments had an elongated bore including the tachometer. The series number was changed from 750/753 to the 101 series.
Restyling 1961
In 1961, the TI version was upgraded to 74 PS (54 kW). With this new engine the car could reach a speed of almost 160 km/h (99 mph). Production of the standard Berlina continued until 1963, whilst the TI continued for one year more.
Production figures were:
Berlina 39,057
TI 92,728
Sprint 24,084
Sprint Veloce 3,058
Spider 14,300
Spider Veloce 2,796
Promiscua 91
Giulietta engines
The Giulietta used an Alfa Romeo Twin Cam engine of 1290 cc straight-4, with a light alloy cylinder block and an alloy cylinder head with twin overhead camshafts. The original Giulietta engine produced a power output of 53 bhp (40 kW) in the sedan and 80 bhp (60 kW) in the Giulietta Sprint. This was to be increased to 116 bhp in later sporting models such as the Giulietta Sprint Speciale and the Giulietta Sprint SZ (Sprint Zagato).
Gallery
Community content is available under
CC-BY-SA
unless otherwise noted.