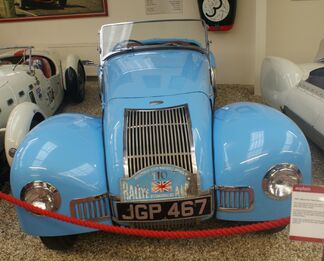 The Allard K1 was a two seat sports car that was intended to be used for racing as well as on the road. A total of 151 were produced between 1946 and 1950.
Because of the car's lightness, due to its simple body, and being equipped with a 3.6 litre flathead Ford V8 engine, the vehicle was capable of reaching 149.67 km/h (93 mph). Some cars were built using Mercury V8 engines as well.
It is believed that the Allard K1 was never offered for sale outside of the United Kingdom, but records indicate that a few were shipped to different countries around the world, including Argentina, Australia, Belgium, Brazil, and the United States.
Community content is available under
CC-BY-SA
unless otherwise noted.