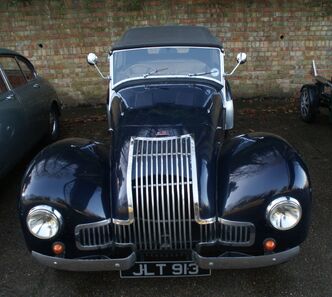 The M Type was a car manufactured by Allard between 1947 and 1950.
The M1 Drophead Coupe was the first postwar Allard model, introduced in 1947. It had full-length doors "Suicide door" type and a folding convertible top. Under the bonnet was a 3.6-liter Ford side valve engine V8, with a gearbox from Ford of Britain's V8 Pilot.
During its four-year production run, a total of 500 examples were produced. Three cars were produced as hardtop coupes and it is thought only one of these examples still survives.
The engine had twin Stromberg carburettors and Offenhauser aluminium heads. The M Type could go from 0-60 mph in 17 seconds, and had a top speed of 90 mph.
While the standard car was quoted at 85 bhp the M type was considered at the top of the fast sports, touring car range.
The M type attracted some of the day's celebrity owner/drivers; Raymond Baxter and David Dimbleby covered the Monte Carlo Rally in one, and other owners included Dirk Bogarde and Mrs. Donal Campbell.
An M type finished 4th in the 1950 Monte Carlo Rally, 8th in the 1949 Alpine Rally, 3rd overall in the 1949 Lisbon Rally and 1st in class in 1949, and was the outright winner of the 1949 Swiss Rally.
Community content is available under
CC-BY-SA
unless otherwise noted.