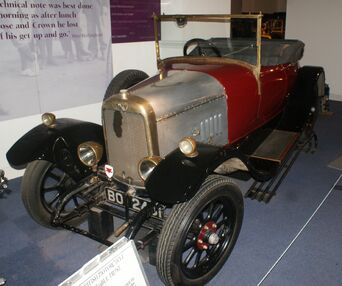 The
Alvis 10/30
was produced between 1920 and 1923. 770 cars were made in the 3 year production run.
The cars had a 4 cylinder 1460cc engine with side valves. The engine was able to produce 30hp. The cars had a cone clutch and a four speed gearbox. This means the car could reach speads of 60mph.
Brakes were on the rear wheels and were rod operated twin shoes in double width drums.
The wheelbase was 9ft 2in and the car weighed 1568lb (712kg).
The cars cost £685 new in 1920.
Community content is available under
CC-BY-SA
unless otherwise noted.