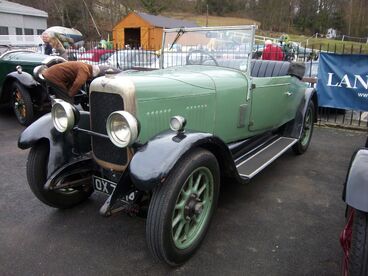 The
Alvis 12/50
is a car introduced by the British Alvis cars company in 1923. It went through a series of versions with the last ones being made in 1932. A range of factory bodies could be specified in two and four-seat form with either open or closed bodies.
The first models were designated SA and SB and had a 1496 cc 4-cylinder overhead valve engine and a chassis with wheelbase of 108.5 in (2,756 mm) on the SA and 112.5 in (2,858 mm) on the SB. The SA usually carried two-seat bodywork often the classic so called "ducks back" style named after its pointed rear end said to resemble that of a duck. All the 12/50s had a four speed non-synchromesh gearbox with right hand change. The cars were right hand drive.
The SC arrived in 1924 with a larger 1598 cc engine and like all the remaining cars the longer chassis. Front wheel brakes were added in 1924.
A new stronger chassis was designed and used for the TE of 1926, which had its engine enlarged again to 1645 cc and the TF of the same year which retained the smaller 1496 cc version. A single-plate clutch replaced the previous cone type. To add confusion to the range another S series, the SD was announced in 1927 with the 1496 engine featuring a cylinder head with larger ports and with a larger carburettor This was made until 1929.
The TE and TF were replaced by the TG and TH in 1927 with large and small engine respectively.
The 12/50 was withdrawn between 1929 and 1930 when the company decided that the future lay with the front-wheel drive FD and FE models, but when these did not reach the hoped for volumes a final version of the 12/50 was announced as the 1645 cc 1931 TJ continuing until 1932.
Gallery
Community content is available under
CC-BY-SA
unless otherwise noted.