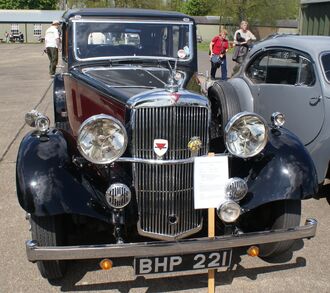 The
Crested Eagle
was a car made by Alvis between 1933 and 1940.
The Crested Eagle shared many features with other models and was rather less sporting in character. Accordingly its survival rate is disappointingly low as many were pillaged in the 1950s and 1960s to yield spares for their more glamorous sisters.
It was produced in a bewildering range of variants with 6 cylinder engines of 2148 cc. The power units were very similar to the contemporary Silver Eagle, Speed 20 and Speed 25 engines, sometimes with valve gear differences. Early models had single Solex carburettors instead of the triple SU carburettors found on the more sporting cars. Later models had a more familiar multiple arrangement.
The chassis came in two lengths of 10ft 3in or 11ft. The car came with independent front suspension which was used for the first time since the FWD. The chassis was set higher than on the "Speed" models, without the pronounced drop.
Initially ENV preselector gearboxes were fitted, but from 1936 these were replaced by the synchromesh Alvis unit. Brakes, rear axle and steering box came from the middle thirties parts bin, along with the engines. An imposing tall, tapering radiator complemented the more upright bodies.
The body was available as four-seater saloon, six-seater saloon and a limousine.
652 cars were built.
Community content is available under
CC-BY-SA
unless otherwise noted.