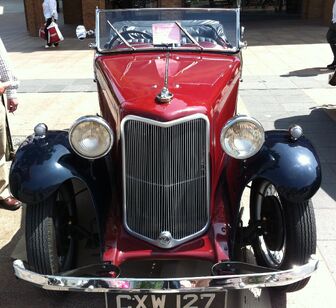 The Armstrong Siddeley 12 HP was an automobile that was first announced in October 1928. The first full year of sales was in 1929. At that time the smallest 6 cylinder engine on the British market.
The car had a relatively small side valve, six cylinder engine with a capacity of only 1236cc (1.2 litres). This resulted in the car being sluggish and underpowered, especially with the heavier saloon body. Initially, the 12 HP was available with three different body styles: two-seater coupe, four-seater tourer and fabric saloon. By October 1930, Armstrong Siddeley had introduced the coachbuilt saloon, which was a particularly heavy body.
The cars ran sweetly and pulled strongly from 5 mph to 50 mph in top gear and had an impressive petrol consumption of around 30mpg. The engine capacity was increased to 1,424cc in 1931. A choice of either a 3 speed manual or a 3 speed pre-selector gearbox was offered and it became known as the New 12HP.
The car was kept in production until 1936, but being sold with a four-cylinder engine.