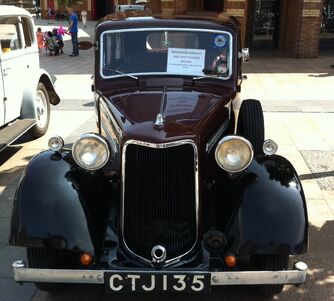 The Armstrong Siddeley 14 HP was an automobile produced between 1936 and 1939. A total of 3,750 vehicles (which includes the 12+) were produced. Production ceased in 1939 with the outbreak of the Second World War.
The cars were fitted with a 6-cylinder 1666cc engine that had a maximum power output of 45 bhp.
The magazine Practical Motorist of March 1937 said that the 14HP was "a very refined car, solidly built and with a certain air of dignity. The car is not one for the sporty boy but for the more sedate and those who take pride in ownership of good things. From every angle it has the appearance of quality, so the price of £320 is fully justified by the product."