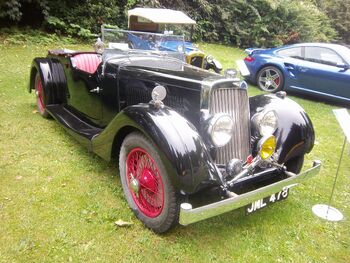 The
15/98
was a car manufactured by Aston Martin between 1937 and 1939. 150 cars were made in this time.
Aston Martin saw that there was no future for the company if they kept producing small number runs of near-racing cars. They then moved into producing touring cars and saloons. The 15/98 was designed to be one of the new quality touring car.
The engine in the 15/98 used the new 2 litre engine except it was de-tuned and became wet sumped. This softening helped to provide more flexibility at the expense of some of the power. The gearbox had synchromesh on the last three gears and was linked to s single plate clutch. The 15/98 had a top speed of 82mph (132kmh).
The engine was a 4 cylinder block with a bore of 78mm and a single overhead camshaft. This gave the cylinders a capacity of 1950cc. It was able to produce 98hp. The suspension comprised of semi-elliptical springs on all four corners of the car. The wheelbase was 9ft 8in and the cars weigh 2599lb (1180kg).
The bodies offered with the 15/98 included a drop top coupe, two-seater and a four-seater. There were no side screens on the car but it did come with an optional folding screen to please the traditionalists.
The two/four seater cost £575 when new.
Gallery
Community content is available under
CC-BY-SA
unless otherwise noted.