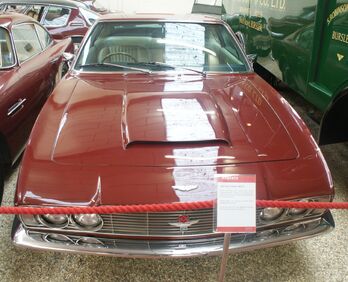 The
Aston Martin DBS
is a GT car produced by the British manufacturer Aston Martin Lagonda Limited from 1967 to 1972. The DBS was featured in the 1969 James Bond film On Her Majesty's Secret Service. A new version, based heavily on the Aston Martin DB9, is featured in the 2006 film Casino Royale and the 2008 film Quantum of Solace (see Aston Martin DBS V12).
Original DBS (1967–72)
The DBS was intended as the successor to the Aston Martin DB6, although the two ran concurrently for three years. Powered by a straight-6 engine, it was produced from 1967 until 1972, eventually being phased out in favour of the DBS V8 and the Aston Martin Vantage.
It was a larger coupé than the DB6, with four full sized seats, but was powered by the same 4.0 L engine as the previous car. Claimed engine output was 282 bhp (210 kW; 286 PS), but a no-cost vantage spec engine option substituted Italian made Weber carburettors for the DBS' original SU units, thereby upping output to an advertised 325 bhp (242 kW; 330 PS).
The DBS was intended to have a more "modern" look than the previous series of Aston models (the DB4 through DB6), and it incorporated a fastback style rear end and squared off front grille, atypical of Astons, but very much then in vogue in automotive design circles of the late sixties. Trademark Aston design features, such as a bonnet scoop, knock off wire wheels, and side air vents with stainless steel brightwork were however retained. The DBS was the last Aston Martin to be built under David Brown's control.
In popular culture
The DBS was used by George Lazenby's James Bond in the 1969 film On Her Majesty's Secret Service. Unlike Bond's previous car, the Aston Martin DB5, no gadgets were seen in this car, other than a mounting for a telescopic-sight rifle in the glove compartment. In the final scenes of the film, Bond's wife, Tracy, is shot and killed while sitting in the car.
The DBS also appears in a single scene in the next Bond film, Diamonds are Forever. It can be seen in the background (being fitted with some sort of small missiles) when Bond is talking to Q on the telephone.
An Aston Martin DBS was later used in the short-lived TV series The Persuaders! (1971–1972), in which Roger Moore's character Lord Brett Sinclair drove a distinctive "Bahama Yellow" (orange/gold) 6-cylinder DBS that, through the use of alloy wheels and different badges, had been made to look like the later DBS V8 model.
Gallery
Community content is available under
CC-BY-SA
unless otherwise noted.