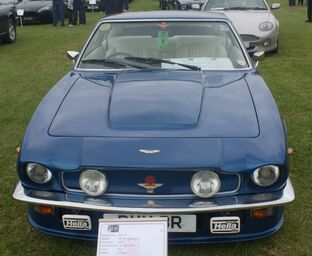 The
Aston Martin V8 Vantage
was hailed at its 1977 introduction as "Britain's First Supercar" for its 170 mph (270 km/h) top speed. Its engine was shared with the Lagonda, but it used high-performance camshafts, increased compression ratio, larger inlet valves and bigger carburettors mounted on new manifolds for increased output. Straight-line performance was the best of the day, with acceleration from 0–60 mph (97 km/h) in 5.3 seconds, one-tenth of a second quicker than the Ferrari Daytona.
The Vantage name had previously been used on a number of high-performance versions of Aston Martin cars, but this was a separate model. Although based on the Aston Martin V8, numerous detail changes added up to a unique driving experience. One of the most noticeable features was the closed-off hood bulge rather than the open scoop found on the normal V8. The grille area was also closed off, with twin driving lights inserted and a spoiler added to the bootlid.
The Oscar India, introduced in 1978, featured an integrated tea-tray spoiler and smoother bonnet bulge. Inside, wood replaced some of the vinyl padding giving a more luxurious appearance. This line was produced, with some changes, until 1990.
The 1986–1989 580X V8 Vantage was more of a mechanical update. 16-inch (406-mm) wheels were now fitted, as was the more powerful V8 from the limited-edition V8 Zagato.
Cosmetic Vantages were built for the United States market – they lacked the powerful Vantage engine but retained the Vantage name, and the look was changed with a flattened hood. From 1980 they featured DOT-approved 5 mph (8 km/h) safety bumpers front and rear.
A Vantage Volante convertible version was also produced.
James Bond
James Bond's car (registered on 18 March 1985 as B549 WUU; last on the road 1 July 2006) in the 1987 film The Living Daylights.
At the beginning of the film, the car is a V8 Volante (convertible). The car used in these scenes was a Volante owned by Aston Martin Lagonda chairman, Victor Gauntlett. Later, the car is fitted with a hardtop ("winterised") at Q Branch, and these scenes feature a pair of non-Vantage V8 saloons, fitted with the same number plate as the initial car, but with Vantage badges now fitted. Clearly, the later cars are intended to be the same Volante.
Gallery
Community content is available under
CC-BY-SA
unless otherwise noted.