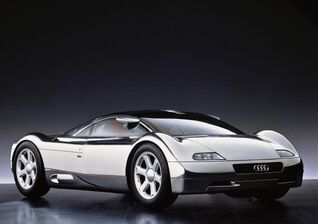 The
Audi Avus
was a concept supercar made by the German car manufacturer Audi. It was first introduced at the 1991 Tokyo Motor Show.
The Avus had an aluminium space frame, which made it a lightweight and safe automobile. This second showing of the new aluminium architecture (after the quattro Spyder a month before) paved the way for the mass-produced aluminium A8 in 1994.
The Avus's engine was supposed to be a 6.0 L 60-valve 12-cylinder engine producing 509 PS (374 kW; 502 hp), capable of accelerating the car from 0 to 60 mph (97 km/h) in about 3 seconds and a top speed of 211 mph (340 km/h). The exact car shown at the Tokyo Motor Show, however, had a dummy made of carefully painted wood and plastic for an engine because at the time, such a powertrain was still in development; Audi-made W12 engines were not available to buyers until 2001, on the Audi A8 6.0 W12 quattro in 2001.
The Avus quattro is now on display at Audi's museum mobile in Ingolstadt, Germany.
Community content is available under
CC-BY-SA
unless otherwise noted.