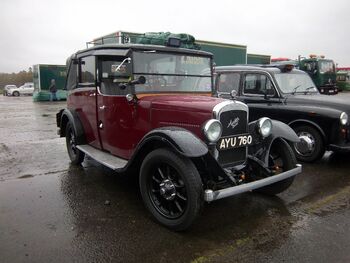 Will Overton
, director of the car dealership Mann and Overton, had been selling cabs in London since 1906. He approached Herbert Austin about modifying the 12/4 chassis so that it would comply with the London Conditions of Fitness. A chassis from an
Austin 12/4
was modified with bodies from various coach-builders.
Because the overall height of the taxi was higher than the competition, it received the nickname 'High Lot'. This design gave top hat wearing customers plenty of room. It was soon outselling the Beardmore and Morris Commercial versions. Building on its success, the 'Low Loader' model was introduced in 1934.
Standard equipment included luxuriously upholstered Standard Cab Landaulter body, cellulose blue with full windscreen, and both front and rear bumpers. Fire extinguisher, horn, number plates, license holder, taxi sign, Trico visional wiper and speedometer were also included.
All exterior fittings were chromium plated. The list price was £395. Hire purchase terms were £50 deposit with monthly installments of £10, for a total price of £472, or £18 less if purchased completed in 40 months (rebate reduced by £3 for each additional month.)
After World War II, Mann & Overton decided that it needed a more up-to-date design. So it was agreed that Austin would supply the engine/chassis with the body supplied by Carbodies in Coventry, although the body was actually designed by Austin's chief body designer Jim Stanfield. In 1948 a new Austin taxi appeared on the streets called the FX3. It was soon the market leader. Although in 1952 a diesel engine from Ferguson was available as a conversion, by 1954 Austin was producing their own 2.2 litre diesel engine as a factory fit. Also produced was the FL1. This was the same model but had no luggage space by the driver. Instead it had a bench seat, and the roof sign was deleted.