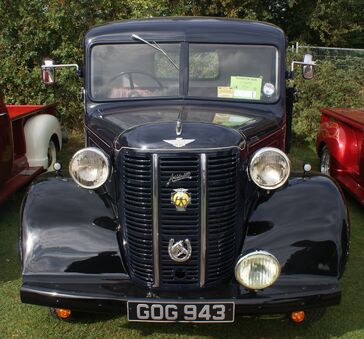 The
Austin K2/Y
was a British heavy military ambulance built by the Austin Motor Company for use during the Second World War.
The rear body, built by Mann Egerton, could take ten casualties sitting or four stretcher cases. One veteran stated he carried 27 wounded at one point in the North African Campaign, this involved seating passengers on the wings, bonnet, the rear steps and even using rifles to suspend extra stretchers across the walkway in the back, he was mentioned in dispatches for this feat.
13 102 Austin K2/Y ambulances were built at Austin's Longbridge plant and an estimated 50+ remain today. The Austin chassis was one of three main designs fitted with Mann Egerton bodies, the others being Morris Commercial and Bedford Vehicles. It is estimated there are two remaining Morris Commercials, but no Bedford examples are said to survive.
The Austin is widely regarded as having a gearbox that needed to be "understood", but once mastered provided good service. One person who did master it was the then Princess Elizabeth, who drove one during the war. The top speed is around 50 mph (80 km/h) (very good for its age), one veteran said he got 70 mph (113 km/h) in Korea, how he stopped it is another matter.
This type of ambulance was the "star" of the film Ice-Cold in Alex (1958) featuring Sir John Mills and Sylvia Syms.
The design was popular both with British, Commonwealth and also American troops being an example of reverse Lend-Lease.
Community content is available under
CC-BY-SA
unless otherwise noted.