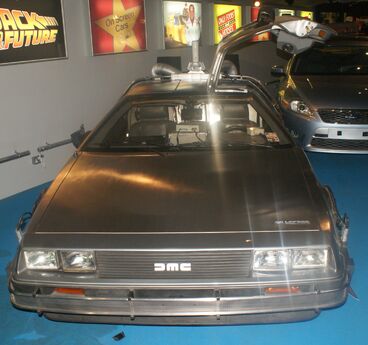 Enjoying a peaceable existence in 1885, Doctor Emmet Brown is about to be killed by Buford "Mad Dog" Tannen. Marty McFly travels back in time to save his friend.
Stranded in 1955, Marty McFly receives written word from his friend, Doctor Emmett Brown, as to where can be found the DeLorean time machine. However, an unfortunate discovery prompts Marty to go to his friend's aid. Using the time machine, Marty travels to the old west where his friend has run afoul of a gang of thugs and has fallen in love with a local schoolteacher. Using the technology from the time, Marty and Emmett devise one last chance to send the two of them back to the future.
The conclusion of the trilogy sends Marty McFly on a rescue mission to the year 1885, where he must save Doc Brown from death at the hands of yet another member of the Tannen clan. However, there are a number of complications preventing a quick return to the future: a lack of gasoline for the time-traveling DeLorean, a band of gunslinging outlaws and a schoolmarm with affections for the smitten Doc.
Stranded in 1955 after a freak burst of lightning, Marty must travel to 1885 to rescue Doc Brown from a premature end. Surviving an Indian attack and unfriendly townsfolk, Marty finds Doc Brown the blacksmith. But with the Doc under the spell of the charming Clara Clayton, it's up to Marty to get them out of the wild west and back to the future.
With the Almanac destroyed by Marty McFly and the time line back on its original course, things are not all well. Dr. Emmett L. Brown and the time machine were somehow struck by lightning, and Marty was somehow received a letter from Doc that he is okay, and in the year 1885. Marty and the 1955 Doc fixed up the time machine after digging it up from a mine, then Marty discovers a grave stone with Doc's name on it, indicating that he will be killed by a man named Beuford Tannen (Biff's ancestor). Marty makes an effort to travel to 1885 to save Doc from his bleak future. But Marty does something to the time machine to not make it run, now Marty and Doc have to figure out to get back to 1985. Unfortunately, this will not be easy with Doc madly in love with a school teacher Clara Clayton, and with Beuford Tannen causing constant trouble for Marty and Doc.
Once again the DeLorean DMC-12 stars again!
Gallery
Community content is available under
CC-BY-SA
unless otherwise noted.