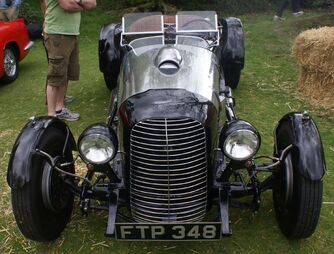 The Baldwin Payne Special is a car that was built in 1947.
In 1947 Philip Payne drove across the United States in a Riley Brooklands, before working at Roger Barlow's 'International Motors' in Los Angeles. He became interested in the local sports car and hot rod scene and was an early member of the California Sports Car Club, as well as The Glendale Sidewinders (SCTA).
He purchased this Special in November 1947, from Willis Baldwin of Santa Barbara. Baldwin built this car which was the first of four specials, using the frame of a 1932 Ford. Payne quickly replaced the Cadillac side-valve engine replacing it with a 4.4 litre (268.4 c.i.) Mercury Flathead with an Iskenderian track-grind cam, Evans 9:1 heads and triple-carburettor intake manifold. This enabled the car to produce 175bhp at 5,000rpm. Drive is through a lightened flywheel, 10 in Mercury clutch and three-speed Ford Pilot transmission with a home-built remote shift linkage to a 3.78:1 rear axle. The cowl covers a split-centre Ford radiator whilst the grille consists of curved lengths of welding wire. The bonnet is of 20 gauge alloy and the air scoop is from a North American aircraft, whilst an Auburn dash is used. Front cycle-type wings were made from spare wheel-cover bands.
The Baldwin Payne Special proved very competitive and successful in many Southern Californian events, ranging from circuit racing to hill climbs and dry lake trials. Returning to Portsmouth, England in October 1950,Payne continued to sprint the car (FTP 348), gaining successes at Southsea Motor Club events, held at the famous Goodwood circuit, as well as Gosport Automobile Club speed trials.