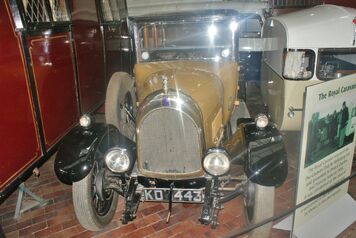 The Fourteen was a car built by Bean between 1924 and 1928. The Fourteen was renamed as the 14/40 from 1927.
The first Bean cars were based on the pre-war Perry car.
In 1923, Bean launched the Fourteen which was a much improved car. It had a staight-four 2.3 litre engine connected to a four speed gearbox via a single plate clutch. The car also featured brakes on all four wheels and semi-elliptical suspension all round.
Original equipment included Smiths Headlights, Sidelights, Divers Helmet Tail Light and a Bulb Horn.
Australian expeditionary Francis Birtles made a number of epic and record breaking journeys in a modified Bean Fourteen car, including being the first person to drive from England to Australia. Bean cars were well known for their durability.
From 1927 as the 14/40 the car was upgraded to have Ricardo designed combustion chambers, a separate gearbox and a more rounded radiator.
The Bean Fourteen was designed to be tough and cheap, the cost of the rolling chassis on introduction was £325 falling to £245
A total of 4000 Bean Fourteens were made.