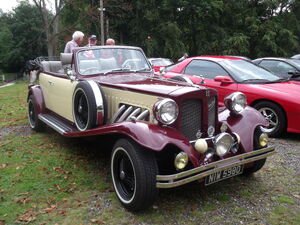 Beauford is a British automobile company originally based in Upholland, Lancashire but later moving to Stoke-on-Trent. The cars are supplied in kit form.
The first cars were made in 1985 and used a Mini bodyshell as the passenger compartment later replaced by a glass fibre moulding. This was mounted on a ladder chassis. At the front is a long bonnet with flowing wings at either side to give the appearance of a 1930s luxury car. A variety of power units could be ordered including Ford, Nissan and Rover. The suspension can be sourced from the Ford Sierra.
Both open and closed bodies were made. The cars became popular as wedding transport.