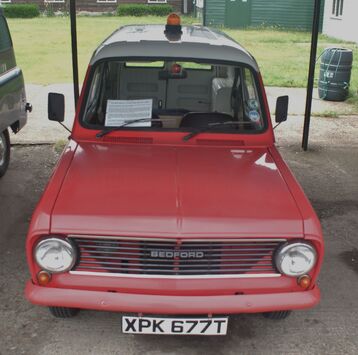 The
Bedford HA
was a car derived van introduced in 1963 by the Vauxhall Motors subsidiary Bedford Vehicles, based on the
Vauxhall Viva
(HA) family car. It was also known as the Bedford Beagle in estate and Bedford roma in small campervan form.
It was extremely popular with utility companies in the United Kingdom, particularly the Post Office, British Rail, Electricity Boards, British Telecom and British Gas. Many other firms such as British European Airways, DER rental and Meals on Wheels services had large fleets as well.
It soldiered on in production for 20 years, until 1983, where it was replaced first by the shorter lived Bedford Chevanne (based on the Vauxhall Chevette) which was in turn replaced by the Bedford Astravan / Bedford Astramax. As the Vauxhall Viva saloon cars went through various detail changes; the bodywork of the van models stayed the same, but they did receive the larger internal combustion engines, and carburetter changes as that years car models received. A pick up was made by martin walter (dormobile) and walker bodies of watford, Made in very small numbers (believed to be around 60 in total) only a handful survive today, they were sold to companies and private buyers through vauxhall/bedford dealerships.
HAs in film and TV
A Bedford HA was used in the filming of the Beiderbecke Trilogy, and in series two of the comedy drama Auf Wiedersehen, Pet, and also in the Oscar winning movie, A Fish Called Wanda.
Gallery