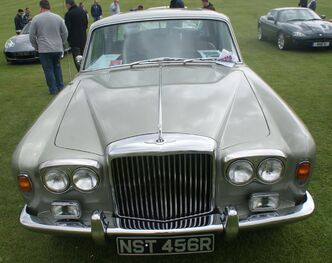 The
Bentley T-Series
is an automobile which was produced by
Bentley Motors Limited
in the United Kingdom from 1965 to 1980. It was announced and displayed for the first time at the Paris Motor Show on 5 October 1965 as a Bentley-badged version of the totally redesigned chassis-less
Rolls-Royce Silver Shadow
.
The Bentley T series was available as a four-door saloon and as a long wheelbase four-door saloon. A small number of two-door saloons were built with coachwork by James Young and Mulliner Park Ward and a two-door convertible with coachwork by Mulliner Park Ward was introduced in September 1967.
The Bentley was differentiated from its Rolls Royce sibling by its simpler and lighter front grille. The other point of difference to attract comment was said to result from the lower production cost of the Bentley grille. In October 1966, the T saloon's pretax 'list price' of GBP 5375 undercut that of the Rolls-Royce by GBP 50.
Fundamental redesign
The T series is the first Bentley (or Rolls-Royce) without a separate chassis. It is totally different from its predecessor the S series.
new steel and aluminum monocoque body with subframes to mount the engine and suspension, more space inside but smaller outside, more passenger room, particularly in the rear compartment, more luggage space
dimensions: - radiator grille 5 inches lower and 2 inches wider; the whole car - 7 inches shorter, 5 inches lower and 3 1⁄2 inches narrower
independent suspension on all four wheels with automatic height control according to loading
Other major improvements:
disc brakes on all wheels with a triplicate hydraulic braking system
new and lighter power steering, improved automatic transmission, eight-way adjustable electric front seats, weight reduced 150 lbs, larger fuel tank
Engine is the least changed unit but a re-designed cylinder head allows a speed increase to 118 mph
1977 upgrade
The upgraded T2 featured rack and pinion steering, improved air conditioning, rubber-faced bumpers, a new fascia and a front air dam, similarly to the Rolls-Royce Silver Shadow II.
The T1 was manufactured from 1965 to 1977 and the T2 was made from 1977 to 1980.
Gallery
Community content is available under
CC-BY-SA
unless otherwise noted.