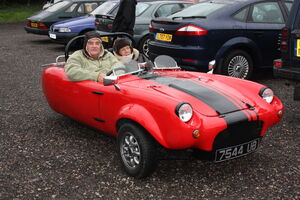 The Berkeley T60 was introduced surprisingly late-on in the British microcar boom of the 1950s, Berkeley's only three-wheeler model was not introduced until September 1959.
It was an instant success in the UK where three-wheelers could legally be driven on a motorcycle licence, so were suitable for a motorcyclist with family. Another advantage was that the purchase and road tax fees for three-wheelers cost considerably less than four-wheeled vehicles. Thus at its launch, the T60 only cost £400 (equivalent to £6.93 thousand today).
They were fitted with the 328cc Excelsior Talisman engine like the older SE328, and the four speed and reverse type VR gearbox, and were available as both soft and hardtops. Chassis numbers run from 1 to approximately 1800, the chassis plate was the printed SE328 type but with the 'SE328' part is often drilled out and T60 stamped in the chassis number block with the chassis number, the plate was mounted on the bulkhead above the brake master cylinder.
In their road test of October 1959, The Motor Cycle magazine described the car as "a fascinating, front-wheel-drive sports car which combines economy with liveliness and superb cornering."
Drive was still to the front wheels through a four speed gearbox, but a trailing arm replaced the swing axle independent suspension of the four wheeled cars. The very last cars had a revised 'unit' front and rear suspension layout, presumably to stop the bridge over the differential from breaking and the rear damper top mount detaching itself from the car.
The T60/4 was produced from October 1960 and are mechanically and outwardly similar to the later T60. It was the same length and width as the standard T60, but differed in having extra room in the back for two seats, the additional space being created by a revised rear body moulding, thus creating proper seats in the back for two children. The rear bench seat was fastened to the car and the centre backrest had a bulge in it because of the revised rear wheel arch. The Car was available in both soft-top and hardtop forms. These cars used the revised front and rear suspension layouts used on the very late T60's.
Both variants of T60 were in production at the time the company was declared insolvent in December 1960.
Gallery
Community content is available under
CC-BY-SA
unless otherwise noted.