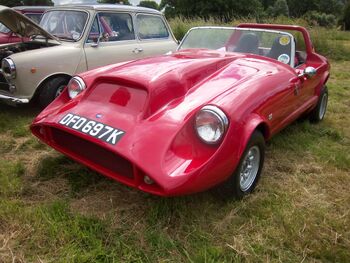 The Biota was a Mini-based kit car created by John Houghton and it was produced from 1969 to 1976. Houghton had a commendable racing background and the Biota shows some considerable racing merit at hill climbs and sprints.
The Biota has a space-frame chassis with the Mini front sub-frame attached as well as the rear suspension. Being Mini-based, the Biota is very small, very low and very light. The Biota also sports a large bonnet so that it can contain a Mini engine.
The body is fibreglass with a noticeable rollover hoop and the windscreen is flat glass with a metal frame. Only around 30 cars were made and a Mk. II was even introduced, boasting better rear suspension and a few body modifications.