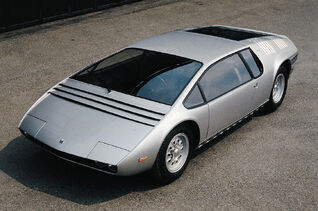 The
Bizzarrini Manta
was a concept car built in 1968 by
Giorgetto Giugiaro
(who previously worked at Ghia and Bertone).
It was the first car he built under his new 'ItalDesign' Company. It was based on a retired racing chassis (the P-538) provided by Bizzarrini.
It is said that the car was created in forty days in order to make the 1969 Turin Auto Show. The Manta is a one-off concept and was re-numbered as 6901.
Inside the cockpit is an odd layout which see the driver being seated in the middle of the car, with a passenger on either side. The idea was copied from a Ferrari 365 prototype built in 1965 and it was later, more popularly revived with the mighty McLaren F1. With three people seated side-by-side it must be a particularly tight squeeze as much of the available passenger foot space is occupied by intrusive wheel wells.
The car was fitted with a fully tuned 5359cc Chevrolet V8 which produced 355bhp. The engine was fitted with four Weber 45 DCOE carburettors. The suspension consisted of double-wishbones in the front and the rear. The aluminium body was attached to a steel tubular chassis. The body was painted a coat of lime green paint which ensured that everyone had to look twice.
The current owner purchased the manta in March 2005 in an 'almost finished' restored condition which was completed in 2006 by Rod Drew of F.A.I. in Costa Mesa, California. It won First in Class at the Pebble Beach Concours d'Elegance in 2005 and a class award at Amelia Island in 2006.