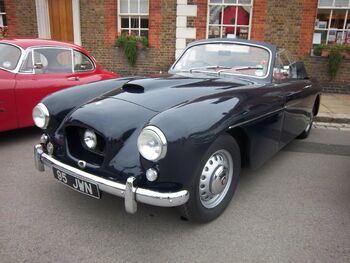 The Bristol 404 and Bristol 405 were British luxury cars manufactured by Bristol Aeroplane Co., whose car division later became Bristol Cars. The models were successors to the Bristol 403 built between 1953 and 1958.
Unlike previous or later Bristol models, there is considerable confusion in nomenclature when it comes to the Bristol 404 and 405. The 404 was a very short-wheelbase (8 feet (2,438 mm) as against 9 feet 6 inches (2,896 mm)) version of the 405, but was introduced in 1953, whereas the 405 was not introduced until 1955 and continued until 1958. The 404 was fitted with a two seat coupé body while the 405 was a four seater with either saloon or drophead coupé coachwork.
The 405 itself was seen in two versions. The more common (265 of 308 built) is a four-door saloon built on the standard chassis of the previous Bristols, whilst the 405 Drophead or 405D (43 built) had a coupé body by Abbotts of Farnham and most built had a highly tuned (through advanced valve timing) version of the 2 litre six-cylinder engine called the 100C which developed 125 bhp (93 kW) as against the 105 bhp (78 kW) of the standard 100B 405 engine. All engines for the 404 and 405 had higher compression ratios than previous Bristols — 8.5:1 as against 7.5:1.
Compared to the 403, the 404 and 405 had an improved gearbox with much shorter gear lever which improved what was already by the standards of the day a very slick gearchange. The 405, though not the 404, had overdrive as standard apart from the earliest models, and front disc brakes became an option apart from the earliest models, and were fitted to almost all 405 Dropheads.
Externally, a notable feature of the 404 and 405 was the abandonment of the BMW-style radiator grille for one much more like an aero-engine. It was also the model that introduced the Bristol feature of storage of the spare wheel in the front wing. The 405, although the only 4-door car ever built by Bristol, had styling that the company was later to refine for many years on their later Chrysler V8-engined cars during the 1960s.
Another notable feature was the innovative provision of sizable lockers in the front wings accessed externally by gullwing doors. The locker on the nearside held the spare wheel and jack, whilst that on the offside housed the battery and fuse panel.
Community content is available under
CC-BY-SA
unless otherwise noted.