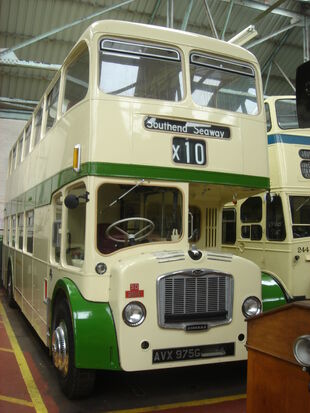 The
Bristol Lodekka
was a low-height double-decker bus built by Bristol Commercial Vehicles in England.
Bristol manufactured over 5,200 Lodekkas from 1949 to 1968, as a standard double-deck vehicle for the UK state-owned bus sector. With all examples bodied by Eastern Coach Works in Lowestoft, they have a traditional half-cab design and a lower floor level allowing a low overall height. The earlier LD-series and the later FL and FS had a rear platform, but the FSF and FLF had a front entrance. Most were powered by 5 or 6-cylinder Gardner engines, with fewer having a Bristol or Leyland power unit. With the arrival of more modern "OMO" or one person operated buses, such as the Leyland Atlantean and Bristol VRT (the Lodekka's successor), many Lodekkas found themselves relegated to driver training duties.
Lodekka users in the UK included: Brighton Hove & District, Bristol Omnibus, Crosville, Cumberland, Eastern Counties, Eastern National, Hants & Dorset, Lincolnshire Road Car, Scottish Omnibuses, Southern Vectis, Luton & District, Thames Valley & Aldershot, United, United Counties, West Yorkshire Roadcar Co, Western National, Central SMT and Wilts & Dorset. Whilst no Lodekkas were bought by any London based companies, they often worked into the capital on services operated by Thames Valley and Eastern National.
West Yorkshire Road Car Company had an early Lodekka, originally fleet number 822 but renumbered DX1 under the April 1954 renumbering scheme, which operated in the Harrogate area and lacked the distinctively stylish fairing of the production models. This was displayed at the Festival of Britain (South Bank Exhibition) in 1951.
The Bristol Lodekka was also manufactured by Dennis under licence, and was sold as the Dennis Loline.
Chassis codes
In accordance with Bristol Commercial Vehicles practice, chassis were designated by a two or three letter code, followed by the number of engine cylinders and engine manufacturer.
LDX: Low 'Decker, Experimental (the first two LD vehicles)
LD: Low 'Decker
LDL: Low 'Decker, Long (Essentially pre-production FL models)
LDS: Low 'Decker, Short (Essentially pre-production FS models)
FS: Flat-floor, Short length
FSF: Flat-floor, Short length, Forward entrance
FL: Flat-floor, Long
FLF: Flat-floor, Long, Forward entrance
Example engine classifications
FS5G: FS with Gardner 5LW engine
FL6B: FL with Bristol BVW engine (AVW type in Bristol LD6B)
FLF6G: FLF with Gardner 6LW or 6LX engine
FLF6L: FLF with Leyland O.600 or O.680 engine
Further use
Surrey-based Top Deck Travel converted approximately 100 to "decker home" caravan standard between 1973 and 1997, and used these buses on extended tours to Europe, Asia and North America.
In the early 1990s, Surrey based "Leisurelink" used a former Southern Vectis example (MDL 954) on a weekend-only tourist service, linking Gatwick Zoo (now closed), Gatwick Airport and the Bluebell Railway.
Some overseas operators acquired second-hand Bristol Lodekkas from the UK for further service. For example, Fok Lei Autocarro S.A of Macau operated a small number of Lodekkas between the 1970s and late 1980s. Citybus of Hong Kong operated one example in 1980s.
A charter/limousine company named Double Decker PDX in Portland, OR operates a refurbished Bristol Lodekka.
Popular culture
In popular culture, Bristol Lodekkas featured extensively in the early-1970s London Weekend Television series On the Buses, with actor Reg Varney driving and Bob Grant his conductor. One of these Lodekkas has been preserved.
Gallery