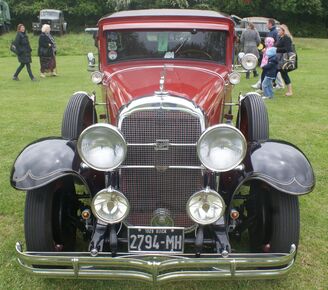 The
Buick Master Six
was a series of passenger cars with six-cylinder engine, made between 1925-1927. It was made as the successor to the 24-Six series. 1928 saw the car get the suffix
120 series
based on the wheelbase being 120 inches. The following year it was replaced by the
Series 121
and
Series 129
.
Master Six (1925-1927)
The new six-cylinder models for 1925 had an engine with a displacement of 4178cc and had an output of 70bhp (51 kW). The wheelbase of the fourteen different twp and four-door bodys available was 3,048mm (cars with two to five seats) and 3251 mm (car with seven seats). Their appearance was similar to its predecessor.
The following year the cars were slightly reworked: The edges were a little softer and the radiator and the headlight units were now changed. In addition there was a bigger engine with a capacity of 4,490cc and an output of 75bhp (55 kW). The number of bodies was reduced to thirteen (including a taxi).
In 1927 there were no changes in style. Only eleven bodies were available to choose from.
In three years, 308,694 Master Six cars had been made.
Master Six Series 120 (1928)
In 1928, the previous model had been adopted without major changes, but had been renamed the 120 series. This marked the (smaller) wheelbase. The stylistic changes were limited to the spotlights, instead of the usual drum shape, they received a hemispherical housing. Ten different bodies of two to four-door cars were offered.
During this year, 102,409 vehicles were produced.
Series 121 and 129 (1929)
In 1929, there was a complete overhaul of the series by General Motors Art & Colour Department. The wheelbase was increased by 1 inch. The series was given the unflattering name of the Pregnant Buick. The car was available in six different bodies with short wheelbase (Series 121) and eight different bodies with a long wheelbase (Series 129). The six-cylinder engine had been tuned and now produced 91bhp (67 kW) from a displacement of 5073cc.
Only 61,893 cars with the short wheelbase and 26,390 cars with the long wheelbase were made.
Community content is available under
CC-BY-SA
unless otherwise noted.