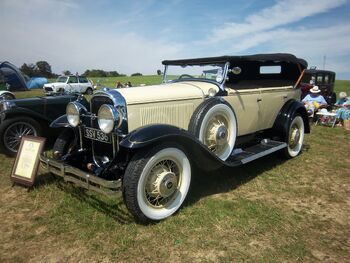 The
Buick Series 40
was a car made by the Amercan manufacturer Buick to go a longside the Series 50 and the Series 60, with the Series 40 being the least powerful. It was Buick's entry-level model.
The Series 40 was introduced in 1930 and replaced the Series 116. It had a 118 inch wheelbase and 80 hp, 258 cu in six-cylinder engine. It featured mechanical drum brakes and semi-elliptic spring suspension with Lovejoy hydraulic shocks. For the first year, six body styles were available, including: sedan, business coupe, sports roadster and special coupe. Prices started at $1260 and went through to $1300.
The model was dropped later in 1930 but re-emerged in 1934, looking noticeably different, and remained part of Buick's line-up until 1959. The 1934 model was lighter and shorter (117 inch wheelbase) than the 1930 one but boasted a 100 hp, 233 cu in eight-cylinder engine. However, the entry price fell to $795 and the top-of-the-range model was $925. For 1934, five body styles were available, including: sport coupe, touring sedan and convertible coupe. In 1935 some more colours were added to the range and in 1936 the car once again had a 118 inch wheelbase and that grew further in 1937 to 122 inches. With this extended wheelbase came an improved engine (100 hp, 248 cu in). Sales were strong throughout the 1930s.
Production ceased in 1939 because of the war, but was resumed in 1946, by which time the car featured very obvious aesthetic differences from 1934-39 models. With a 110 hp, 248 cu in engine and a $1520 (2-door) to £1580 (4-door) price tag, sales were much slower than they had been before the war.
In 1950 the car was once again re-styled and sales were strong once again. In 1954 it was given a lower, wider and much more modern body featuring the 'electric shaver' grille. The 1954 model also featured a 140+ hp, 264 cu in V8. More visual changes occurred in 1956 and, for that year, prices ranged from $2410 to $2775.
The car's aesthetic's changed gradually until 1959, when it was replaced by the Series 4400.
Gallery
Community content is available under
CC-BY-SA
unless otherwise noted.