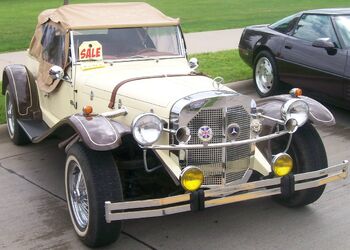 The Gazelle was a kit car produced from the 1970s to 1983 by American automaker Fiberfab, and then from 1983 to 1994 by Classic Motor Carriages (CMC).
The Gazelle's design was based on the Mercedes-Benz SSK roadster built from 1928 to 1932. However, it was made primarily with parts from the contemporary Ford Pintos and Chevrolet Chevettes, and included features that were often standard in automobiles of the 1970s and 1980s. It was fitted with a 140 cubic inch four-cylinder engine, accompanied by an automatic transmission. Rack and pinion steering was utilized, and disc brakes were implemented in the front of the vehicle. Additional features included an AM/FM radio, a cassette player, and a heater.
During production, the Gazelle could be ordered as a kit or fully assembled, with the latter option being more expensive. In spite of being a replica of the original SSK, the CMC Gazelle often demands relatively high prices.
Community content is available under
CC-BY-SA
unless otherwise noted.