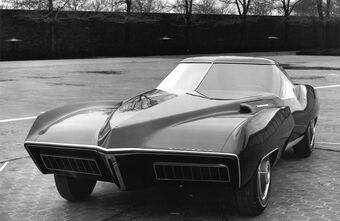 The
Cadillac XP-840 Eldorado Fastback
was a
concept vehicle
, which the
Cadillac
division of
General Motors
introduced in 1965.
It had low body styling but a much longer front and a dramatically tapered fastback roof. This progressed full-size two-seat mockup was given a V-16.
Typically shown in the GM Design viewing court, it continued the "substantial" look of earlier proposals, most notably in profile, plus a domed "prow" hood and matching vee'd windshield.
But there were many startling firsts here, like no back window or inside rearview mirror; instead, a narrow slit was cut into the roof as a viewport for a rear-facing TV camera.
Designers really cut loose on this two-passenger fastback, giving it a massive undercut nose, semi-separate front fenders, a huge wrapped windshield, double-notched beltline, a back panel deeply inset between bold "outrigger" rear fenderlines, and the ribbed "cuffs" spilling out and down from the hood to recall the outside exhaust pipes of Classic days.