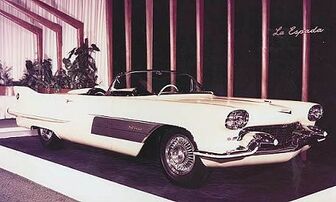 The Cadillac La Espada was a concept car made in 1954.
It was a driveable show car first shown at the 1954 GM Motorama. It was a two-seat fiberglass convertible, mechanically similar to the El Camino concept coupe but with a specially engineered convertible top, ribbed to create a perfectly curved surface when closed.
La Espada sported a recessed grille air intake in the front, which was guarded by massive and sweeping front bumpers. The bumpers were capped with white vinyl to cushion shocks and prevent scuffing of the chrome. Ribbed aluminum on the fender sides was slotted to admit air for the air conditioning system.
La Espada, named for the sword, had dual headlights controlled with an Autronic Eye. Below the trunk compartment in the rear of the car was a special compartment that housed the spare tire. Removing a bright chrome trimmed door, which also served as a bumperette and license plate mount, accessed it. The gas cap was located behind the left rear tail fin, which swung forward for access.
The experimental sports convertible had a 115-inch wheelbase, a 200-inch overall length and was powered by a Cadillac 230hp OHV V8 engine.