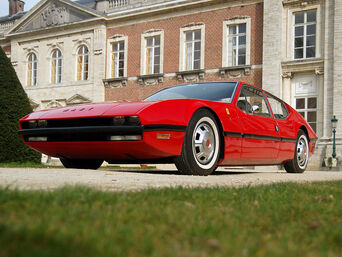 The
Cadillac NART
was a concept car built by Zagato in 1970. (NART standing for North American Racing Team).
The coachwork was designed by Luigi Chinetti, Ferrari's US distributor. His North American Racing Team attracted the best drivers and had no trouble selling its used, and frequently race-winning, team cars to wealthy clients. From its headquarters in Greenwich, Connecticut the Chinetti organisation enjoyed success and admiration.
The N.A.R.T. was designed to provide Chinetti's clients with a luxurious, sophisticated, high performance four seat automobile that could be built in limited quantities at a reasonable cost. It was based upon the simple but ingenious concept of relocating the front wheel drive Cadillac Eldorado power train to behind the rear seats to create a mid-engined layout, then using other standard Cadillac assemblies for the front suspension.
The NART had a 400 hp 500 cu. in. overhead valve V8 engine that was mated to a four-speed automatic transmission. The car featured four-wheel independent suspension with torsion bars and disc brakes on all four-wheels.
Fitted with pop up headlights over shallow parking lights recessed in the full width grille, from the front there is no mistaking the Cadillac NART for anything but the high performance luxury coupé that it is.
After this prototype's completion it was displayed at the 1971 Turin show by Zagato and a few months later on Chinetti Motors' stand at the New York International Automobile Show. It was reportedly well received by potential buyers, but Chinetti's Ferrari business had come to require their full attention and a second prototype for further development work was never built.
Community content is available under
CC-BY-SA
unless otherwise noted.