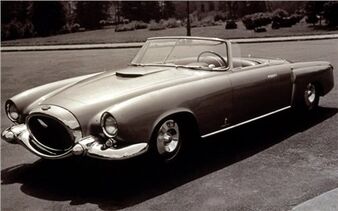 The
Cadillac PF 200
was a concept car that the Cadillac division of General Motors introduced in 1954.
The Cabriolet was built by Pininfarina. The design included a large oval grille with a wide chrome frame in which an equally chromed V was used.
1953 Cadillac wheel discs were used and the Cadillac emblem on the heavily-chromed oval front grille make this unrecognisable Cadillac identifiable.
The two-seater was painted silver grey and the interior was decorated in beige leather.