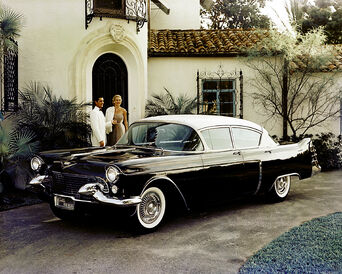 The
Cadillac Park Avenue
was a concept car built in 1954.
It was a four-door pillarless fiberglass sedan built on the 133-inch wheelbase chassis of the 60 Special series and was presented at the 1954 GM Motorama at the Waldorf Astoria in New York City.
Noticeable was the return to dual instead of quad headlights. Quads were still illegal in many states until 1958. The tail fins on the Park Avenue are copied directly from GM's 1951 Le Sabre experimental roadster. The dummy air-scoop on the rear door reappeared on all 1955 Cadillacs and on the Cadillac Eldorado Brougham Town Car prototype in 1956.
The Park Avenue was powered with a 238 hp Cadillac V8 OHV engine.