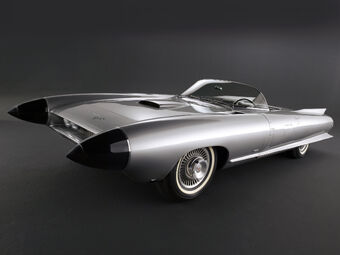 The
Cadillac Cyclone XP-74
is a concept car that was built in 1964.
The Cyclone looked more like a jet aircraft than a car with its two fenders resembling rockets. The two flat door segments could be slid back. The car also came with a radar-sensing crash avoidance system and the Plexiglas bubble-top that automatically closed when its sensor detected rain. These features coupled with the radical design, made it a favourite at auto shows. The XP-74 started life as the Cadillac Cyclone but was later modified to it's current design.
The Cyclone is built on a 104 inches chassis with actual car being 197 inches long. It stands at 44 inches tall with the body being made of steel (not fibreglass, like some experimental models). The car is fitted with the standard 325HP engine fitted with a low-profile carburettor, a cross-flow aluminum radiator and two fans.
The car was originally painted with white pearlescent paint but was later replaced with silver. At the same time, the GM Air Transport logo disappeared from the tall fins, to be replaced by an oblong and the Cyclone name badge placed at the extremity of each rear fender. The seats are made from silver coloured leather.
Community content is available under
CC-BY-SA
unless otherwise noted.