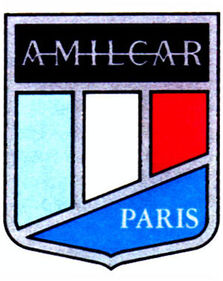 Amilcar
was a French automobile manufactured from 1921 to 1940.
The first offering was a small cyclecar; designed by Jules Salomon and Edmond Moyet, it bore a striking resemblance to the pre-war Le Zèbre. Next was the 903cc CC, which was available in two further versions; the CS was a sport version, while the C4 was a family car. The side-valve engine had splash lubrication, and came with a three-speed gearbox. The most famous model of all was the CGS "Grand Sport" of 1924; this featured a 1074 cc sv engine and four-wheel brakes. This in turn evolved into the more sporty CGSS "Grand Sport Surbaissé". These models were built under license in Germany (as the Pluto) and in Austria (as the Grofri) and in Italy (as Amilcar Italiana). The marque entered automobile racing in the mid-1920s with a batch of supercharged dohc 1100 cc six-cylinder cars that used a roller bearing crankshaft in the full racing version; these vehicles were also available with plain bearings, driven by famous pilote André Morel.
The company also offered a light touring car; called the "M-Type", it featured a sv 1200 cc engine and was launched in 1928. It was followed by the M2, M3, and M4 versions. 1928 also saw the manufacture of a straight eight, which was built with an ohc 2-liter engine. This, the C8, proved unreliable, and soon disappeared. In the late 1930s Amilcar introduced two new models; one was the 14cv, which used a four-cylinder Delahaye engine. In 1937 the company merged with Hotchkiss. The next model was the front-wheel-drive Amilcar Compound, quite advanced in design for its era, featuring a monocoque frame made of a light alloy and independent suspension all around. For an engine it had an ohv four-cylinder of 1185 cc.
Production of the Amilcar was not resumed after World War II.
All items (16)
Community content is available under
CC-BY-SA
unless otherwise noted.