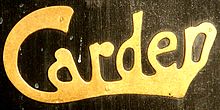 Carden Engineering produced Four wheel cyclecars designed and built by in England by John Carden who was a prolific designer who later went on to work on tanks and tracked Bren gun carriers and also tractors known as Carden-Lloyd and he went on to be Knighted in 1931.
They produced four wheel cyclecars from 1913-25.
The design of his early cyclecars and factory were sold to Ward and Avey Ltd. in 1916 and the car renamed the AV, production continued until 1924.
It is thought production of AV cars may have reached 1000.
Carden went on to design two new cyclecars, he sold the design of the first to Tamplin in 1919 and this the second to Arnott and Harrison in 1922 who marketed the car as The New Carden until 1925. 
All items (3)
Community content is available under
CC-BY-SA
unless otherwise noted.