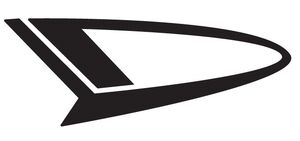 Daihatsu Motor Co., Ltd.
is the oldest Japanese manufacturer of cars, known mostly for its smaller models and off-road vehicles. Many of its models are also known as kei jidōsha (or kei cars) in Japan. Its headquarters are located in Ikeda, Osaka Prefecture.
The name "Daihatsu" is a combination of the first kanji for Ōsaka (大) and the first of the word "engine manufacture" (発動機製造 hatsudōki seizō). In the new combination the reading of the "大" is changed from "ō" to "dai", giving "dai hatsu."
Daihatsu was formed in 1951 as successor organisation to Hatsudoki and, by the 1960s, had started exporting cars to Europe, although it did not enjoy any major sales success until well into the 1980s.
Since February 1992 in North America, it has been common for Toyota to distribute Daihatsu models.
In January 2011, Daihatsu announced it would pull out of Europe by 2013, citing the persistently strong yen which makes it difficult to turn a profit from its export business. Daihatsu's sales in Europe had plummeted from 58,000 in 2007 before the financial crisis, to 12,000 in 2011.
An affiliate company spun out in 1966, Daihatsu Diesel Motor Manufacturing Company produces marine engines and diesel generators.
Company history
1907 – Hatsudoki Seizo Co., Ltd. founded
1951 – Company renamed: Daihatsu Motor Co., Ltd.
1967 – Signed an agreement with Toyota Motor Corporation
1988 – Daihatsu USA launched with the Charade and Rocky
1992 – Daihatsu USA shuts down in February
1999 – Toyota gains a controlling interest (51%) in Daihatsu Motor Ltd.
2011 – Daihatsu states that sales of Daihatsu motor cars will cease across Europe on 31 January 2013.
2011 – Daihatsu will invest 20 billion yen ($238.9 million) in Indonesia to build a factory that produces low-cost cars smaller than Etios which has been launched in India in December 2010. The construction has been initialized on 70,000 square meters in May 27, 2011 and will start operation at the end of 2012 for producing 100,000 cars per year.
Trending pages
All items (19)
Community content is available under
CC-BY-SA
unless otherwise noted.