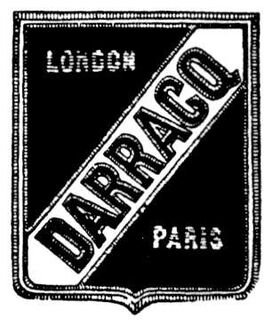 Automobiles Darracq S.A. was a French motor vehicle manufacturing company founded in 1896 by Alexandre Darracq.
Using part of the substantial profit he had made from selling his Gladiator bicycle factory, Alexandre Darracq began operating from a plant in the Parisian suburb of Suresnes. The company started by building electric motor carriages until 1900 when they produced their first vehicle with an internal combustion engine. The Darracq automobile company prospered and the 1904 "Flying Fifteen" was a production model of exceptional quality that helped the company capture a ten percent share of the French auto market.
In 1902, Alexandre Darracq signed a contract with Adam Opel to jointly produce vehicles in the German Empire under the brand name "Opel Darracq." Three years later, the company expanded to Britain, incorporating the A. Darracq Company (1905) Limited with a capitalization of £650,000. In 1906 the company expanded to Portello, a Milan suburb in Italy. They established Società Italiana Automobili Darracq (SIAD) through a licensing with Cavaliere Ugo Stella, an aristocrat from Milan. The business did not do well and Darracq shut it down in 1909 but a new partnership called Anonima Lombarda Fabbrica Automobili (A.L.F.A.) acquired the business which a few years later was called Alfa Romeo. In 1907, Darracq formed Sociedad Anonima Espanola de Automoviles Darracq in Vitoria, Spain with a capitalization of 1,000,000 pesetas.
The company began competing in auto racing as a way of gaining publicity for its products. Paul Baras drove a Darracq to a new Land speed record of 104.53 mph (168.22 km/h) at Ostend, Belgium, on November 13, 1904. Another new world record was set by a factory built Darraq special on December 30, 1905 when Victor Hémery drove his V8 Special to a speed of 109.65 mph (176.46 km/h) at Arles, France. The V8 was shipped to Ormonde Beach Daytona where it was timed at 122.45 mph (197.06 km/h) in 1906 to win the title "1906 Speed of King". On return to Europe the car was sold to Algenon Lee Guinness who set many records over the next few years until the car was retired in 1909 with a broken piston. This V8 Special(see full story at [1]) was rebuilt in 2005 using its original engine which had survived mostly intact. Darracq vehicles won the 1905 and 1906 Vanderbilt Cup at Long Island, New York in the United States and the Cuban race at Havana. Notable drivers who raced Darracqs were Louis Chevrolet, Victor Hémery Louis Wagner and Vincenzo Florio, who later founded the Targa Florio.
In 1913 Alexandre Darracq sold out to British financial interests led by Owen Clegg who relocated to the Paris headquarters to take over as the Managing Director of the company. During World War I, the Darracq factory was converted to the production of various war materials. The War ended in 1918 and in 1919, Darracq took over British Talbot and Talbot models were then marketed as Talbot-Darracqs. In 1920, the operation was reorganised as part of the Sunbeam-Talbot-Darracq (STD) conglomerate and in 1935, the company was purchased by the Rootes Group.
In 1953, a British film directed by Henry Cornelius and titled Genevieve, featured a 1904 Darracq as its centrepiece. The highly successful film sparked a huge increase in vintage automobile collecting and restoration.
Trending pages
All items (11)
Community content is available under
CC-BY-SA
unless otherwise noted.