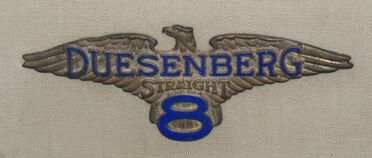 Duesenberg (often nicknamed "Duesy") was originally an Auburn, Indiana based American luxury automobile company active in various forms from 1913 to 1937, most famous for its high-quality passenger cars and record-breaking racing cars.
History
In 1913, brothers Frederick and August Duesenberg founded Duesenberg Automobile & Motors Company, Inc. on 915 Grand Avenue in Des Moines, Iowa, to build sports cars. Born in 1876 and 1879 respectively in Kirchheide (Lemgo), Germany, the two brothers were self-taught engineers and built many experimental cars. Duesenberg cars were considered some of the very best cars of the time, and were built entirely by hand. In 1914, Eddie Rickenbacker drove a "Duesy" to finish in 10th place at the Indianapolis 500, and a Duesenberg won the race in 1924, 1925, and 1927. The fledgling company sidestepped into aviation engine manufacturing when Colonel R.C. Bolling and his commission acquired a license to produce the Bugatti U-16 for the U.S. military aviation. The end of World War I stopped this project before it could ever mature.
In 1923, drivers at Indianapolis 500 used Duesenbergs as pace cars. In 1921, Jimmy Murphy became the first American to win the French Grand Prix when he drove a Duesenberg to victory at the Le Mans racetrack.
All items (6)
Community content is available under
CC-BY-SA
unless otherwise noted.