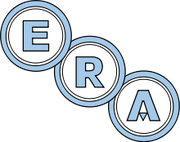 English Racing Automobiles
(ERA) was a British racing car manufacturer active from 1933 to 1954. Currently the ERA trademark is owned by a British kit-car manufacturer.
Prewar history
ERA was founded by Humphrey Cook, Raymond Mays, and Peter Berthon in November 1933 and established in Bourne, Lincolnshire, next to Eastgate House, the long-time family home of Raymond Mays. Their ambition was to manufacture and campaign a team of single seater racing cars capable of upholding British prestige in Continental European racing.
With the cost of aspiring to full Grand Prix racing prohibitive, they instead aimed ERA's efforts at the smaller voiturette - 1500cc supercharged - class of motor racing, the Formula 2 equivalent of the day. Humphrey Cook financed the operation - using the not insignificant wealth from the family drapery business, Cook, Son & Co., of St Paul's Churchyard, London. Peter Berthon was responsible for the overall design of the cars, while Raymond Mays became its principal driver - having already successfully raced several other makes including Vauxhall, Bugatti and Riley.
A new chassis was designed by the well known British designer Reid Railton (who had also successfully designed the Bluebird land speed record cars for Malcolm Campbell) and was constructed by Thomson & Taylor at Brooklands. The engine was based on the well proven Riley 6-cylinder unit, albeit this was modified in a number of significant ways. A stronger forged crankshaft with a large centre Hyatt Roller bearing was made and an entirely new aluminium cylinder head designed. The engine was supercharged using a bespoke supercharger designed by Murray Jamieson who had worked with Mays & Berthon on the White Riley. The ERA engine was designed around three capacities - a base 1500cc, an 1100cc and also was capable of being expanded up to 2000 cc. It ran on methanol and in its 1500cc form was capable of producing around 180-200 bhp with in excess of 250-275 bhp in 2000cc form.
The panel-beating brothers George and Jack Gray hand-fashioned the new car's single-seater bodywork, to a design credited to a Mr Piercy who had previously designed the bodywork for Malcolm Campbell's 'Bluebird' record breaker.
The unveiling of the first ERA - chassis R1A - to the press and public took place at Brooklands on 22 May 1934. After initial chassis handling problems, which required a number of modifications, soon ERA had a winning formula. By the end of the year ERAs had scored notable victories against many more established marques. In 1935, in a major race at the Nürburgring, ERAs took first, third, fourth and fifth places.
Through the remainder of the decade, with drivers of the calibre of Dick Seaman in the team, ERA dominated voiturette racing.
Two Siamese princes, Chula Chakrabongse and Bira Birabongse, whose trio of ERAs became famous as "Hanuman", "Romulus" and "Remus", ran their own team, operating from The White Mouse Garage. Prince Chula owned the team, having bought Romulus as a present for his cousin, Prince Bira, who was the team's driver.
The more modern E-Type ERA appeared just before the Second World War but was not fully developed.
Postwar history
The Second World War brought a halt to motor racing in Europe, and the team's Bourne site was sold to the Bus operator Delaine who occupied adjacent premises. The original building is still in use today by Delaine as an office block. By the time racing resumed in the late 1940s Berthon and Mays had moved on to the British Racing Motors (BRM) project.
Today
ERAs in competition
The vast majority of prewar ERAs are still in existence, and they have continuous and verifiable provenance. They still compete in historic events despite the youngest being nearly seventy years old. The cars are particularly associated with the Shelsley Walsh hillclimb thanks in large part to Mays, who won the first two British Hill Climb Championships in 1947 and 1948; indeed an ERA has for many years held the hill record for a prewar car.
Mays exhibition
There is a permanent exhibition about Raymond Mays' contribution to motor racing, including his ERA days, at Bourne Civic Society's heritage centre in Bourne. It is open on weekend and bank holiday afternoons.
ERA trademark
The kit and sportscar manufacturer Tiger Racing Ltd situated in UK (20 years), unconnected to the ERA voiturettes or Grand Prix cars, currently owns the English Racing Automobiles trade mark and the ERA trademark and produces two vehicles badged as ERAs: a two-seater sports car called the ERA 30 which is very similar in appearance to the Lotus 23 and Lotus 30, and a single-seater called the ERA HSS.
Trending pages
All items (8)
Community content is available under
CC-BY-SA
unless otherwise noted.