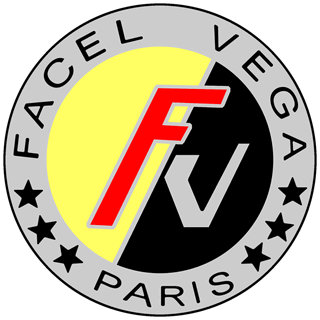 Facel
was a French manufacturer of automobiles from 1954 to 1964.
The company was named after the original metal stamping company FACEL, and the company's first model, the Vega, named after the star, was introduced at the 1954 Paris Auto Show. The cars were advertised with the slogan For the Few Who Own the Finest.
Initially successful, the company failed after the debut of its mechanically troubled Facellia model.
Company history
The marque Facel Vega was created in 1954 by Jean Daninos (brother of the humorist Pierre Daninos, who wrote Les Carnets du Major Thompson), although the Facel company had been established by the Bonzavia Company in 1939 as a subcontracting company for the aviations industry. FACEL (Forges et Ateliers de Construction d'Eure-et-Loir, in English: forge and construction workshop of the department of Eure-et-Loir) was initially a metal-stamping company but decided to expand into car manufacturing in the early 1950s. Facel entered the automobile business as a supplier of special bodies for Panhard, Delahaye and Simca.
Small numbers of other special bodied cars such as the Bentley pictured were also made, and Facel made the pillarless coupé bodywork for the Simca/Ford Comète. Around 45,000 Comètes were built, this lucrative contract enabling Facel to market a car of their own.
Gallery
All items (8)
Community content is available under
CC-BY-SA
unless otherwise noted.