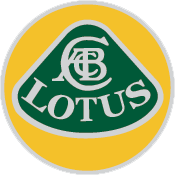 Lotus Cars is a British manufacturer of sports and racing cars based at Hethel, England. The company is famous for designing and building landmark race and production automobiles of extremely light weight and possessing legendary handling characteristics.
The company is based in East Anglia and was originally formed as Lotus Engineering Ltd. by the influential engineer Colin Chapman, in 1952. The Company's first factory was in old stables behind the Railway Hotel in Hornsea. Team Lotus was active and competitive in Formula One racing from 1958 to 1994. Since the 1960s the company has occupied a modern factory and road test facility at Hethel, near Norwich.
Chapman died of a heart attack in 1982, at the age of 54, having begun life an inn-keeper's son and ended a multi-millionaire industrialist in post-war Britain. The carmaker built tens of thousands of successful racing and road cars and won the Formula One World Championship seven times.
In 1986 the company was bought by General Motors. On August 27, 1993, GM sold the company, for £30 million, to A.C.B.N. Holdings S.A. of Luxembourg, a company controlled by Italian businessman Romano Artioli, who also owned Bugatti Automobili SpA. In 1996 a majority share in Lotus was sold to Perusahaan Otomobil Nasional Bhd (Proton), a Malaysian car company listed on the Kuala Lumpur stock exchange.
The company also acts as an engineering consultancy, performing development - particularly of suspension - for other car manufacturers.
As of 2005 the Malaysian company Proton organised Lotus as Group Lotus, divided into Lotus Cars and Lotus Engineering. A Formula One team is in the works, according to rumour.
Badges
Trending pages
All items (90)
Community content is available under
CC-BY-SA
unless otherwise noted.