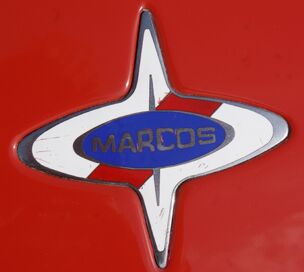 Marcos
was a British sports car manufacturer. The name was a combination of founders Jem
Mar
sh and Frank
Cos
tin.
History
Marcos was founded in Luton, in Bedfordshire, England, in 1959 by Jem Marsh and Frank Costin. Frank Costin had earlier worked on the De Havilland Mosquito fighter-bombers and from there he got the idea to use plywood for the chassis. The company moved to a converted mill in Bradford on Avon, Wiltshire in 1963 and in 1971 to a £125,000 purpose built factory at nearby Westbury.
Problems with exporting cars to the USA and the move to the expensive new premises led to financial troubles in the 1970s and by 1971 they were out of business. In July 1971 it was reported that the Rob Walker Group of Companies, a principal dealer, had taken over the stocks and assets of the business and established a new company, Marcos Ltd. The new owners insisted that production would continue, albeit, at least in the short term, only for the UK market. Marcos dealers in the UK had been heavily discounting new cars since the end of 1970, however, while a report at the time of the collapse stated that the company's stock of 35 unsold cars in the USA had had to be "liquidated": in reality there seems to have been a substantial stock of new cars still looking for buyers, and it is not clear whether, over the next few years, any more were built. Just a year later, one Saturday in June 1972, what was described as "a cash jumble sale of Marcos bits – prototype and shop soiled components, benches, tools..." took place at what was could now be characterized as the "old Marcos Cars factory" at Westbury. The sale was occasioned by the company's reorganisation and move to a smaller factory.
Jem Marsh however stayed in the auto business. In 1976 he bought back the rights to the Marcos name, and in 1981 the Marcos was relaunched with the Marcos V6 Coupe that was sold in kit form.
Marcos went bankrupt again in 2000, but thanks to a wealthy Canadian, Tony Stelliga buying the company, production was again revived in 2002. The race car production was relocated to the Netherlands while road car production moved to Kenilworth, Warwickshire, England. By 2005 most of the designers from the near to bankrupt TVR joined the company.
On 9 October 2007 it was announced that Marcos would cease car production and go into voluntary liquidation.
Trending pages
All items (17)
Community content is available under
CC-BY-SA
unless otherwise noted.