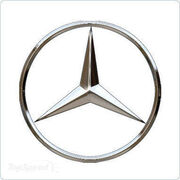 Mercedes-Benz
(sometimes shortened to just
Mercedes
or
Benz
) is a famous German brand of automobiles, buses, coaches, and trucks now owned by Daimler AG (formerly known as Daimler-Benz). The Daimler-Benz AG company originated on June 28, 1926 when two companies, Benz & Cie. and Daimler Motoren Gesellschaft (DMG), merged. Established in 1871, Benz & Cie. was the most important of several companies founded by Karl Benz. DMG was founded by Gottlieb Daimler and his partner Wilhelm Maybach in 1890, but Daimler died in 1900 and Maybach left DMG in 1907, by which time the two companies were rivals. In 1924—due to economic necessity after World War One—they entered into an "Agreement of Mutual Interest" (valid until the year 2000), however, this initial agreement still allowed each company to manufacture and sell their products under their original brand names. It was only after the 1926 official merger, that the brand—
Mercedes-Benz
—was created and used.
Mercedes-Benz is the brand name applied to the models of one of the premier automotive manufacturers in the world and, because of its tie to Karl Benz, it is also the name of the world's oldest continuously produced automobile line. Its contemporary competition in automobile production is from Audi, BMW, Cadillac, Infiniti and Lexus. In 1926 when the new company, Daimler-Benz was established through merger, a new logo also was created that would include a symbol for each and integrate the names of the two former companies. A three-pointed star had been designed by Gottlieb Daimler to show the ability of his motors for land, air, and sea use. This star first appeared on a DMG model in 1909, so it was chosen for the new logo. However the brand name Daimler was compromised after the death of Daimler in 1900, and allowed to be used on other automobiles, so the name of its seminal Mercedes model was chosen for the DMG portion of the logo. The traditional laurel symbol of Karl Benz was added along with his name to complete the new logo. The logo with a plain ring, as seen today, was not used until 1937.
Mercedes-Benz automobiles are among the most technologically advanced vehicles in the world, as they have pioneered—both in the past and present—countless technological and safety features (see details below) and renowned for their flawless design and execution. It was in 1998 - when Daimler-Benz and Chrysler agreed to combine their businesses—known as the "merger of equals" — that the DaimlerChrysler AG company was created.
History
The origins of the Daimler-Benz company founded through a merger in 1926 date back to the mid-1880s, when Gottlieb Daimler (1834-1900) working with Wilhelm Maybach (1846-1929), and Karl Benz (1844-1929) invented the internal combustion engine-powered automobile independently, in southwestern Germany. Although they were merely sixty miles apart, these pioneers were unaware of each other's early work.
Karl Benz had his shop in Mannheim and invented the worlds first true automobile powered by an internal combustion engine in 1885. It had three wheels. He was granted a patent for his automobile, dated January 29, 1886, for what he called the "Benz Patent Motorwagen". Among many inventions, Benz patented his first engine in 1879 and included in his "integral" design for the Motorwagen patent application, a high-speed single-cylinder four-stroke engine of his own design.
In 1885, Gottlieb Daimler and design partner Wilhelm Maybach, working in Cannstatt, Stuttgart, were granted a patent dated August 29, 1885 for what is generally recognized as the prototype of the modern gas engine, that they named the "grandfather clock engine".
On March 8, 1886, Daimler purchased a stagecoach made by Wilhelm Wimpff & Sohn and he and Maybach adapted it to hold this engine, thereby creating a four-wheeled carriage propelled by an engine, as many had before them. The only distinction about this carriage was that it carried an internal combustion engine. None of many similar attempts to adapt carts, boats, or carriages—in many countries—were propelled by this type of engine. On the official history pages of the Mercedes-Benz Internet site it is referred to as "a carriage — without a drawbar but with the conventional drawbar steering. A carriage without horses..." Daimler and Maybach later purposely built, from scratch, the first four-stroke engine powered automobile with four wheels in 1889. They founded DMG in 1890 and sold their first automobile in 1892.
Stationary engines were his major business and he invented many improvements to them and their application, but Karl Benz continued to refine his Motorwagen through several models and sold his first automobile in 1888. He built his first four-wheeled model in 1891. Benz & Cie, the company started by the inventor, became the world's largest manufacturer of automobiles by 1900.
In 1899, DMG automobiles built at Untertürkheim (a city district of Stuttgart) were raced successfully by Emil Jellinek (1853-1918), an automobile enthusiast and dealer. He had the name of his daughter, Mercedes, painted on the automobiles for good luck. Wanting faster race cars, it was Jellinek who spurred the development of the seminal 1900 DMG model that would be the first of the DMG Mercedes series, bearing the name of his daughter.
After suggesting some design specifications, he promised to purchase thirty-six of the new DMG model if Maybach would name the new 35 hp engine contained in it—the Daimler-Mercedes engine. A contract of five hundred and fifty thousand marks was made for these new models. Within weeks he contracted for thirty-six of another DMG model with 8 hp engines. He was granted an exclusive concession to sell the new DMG automobiles in Austria-Hungary, France, Belgium, and the USA.
That new model later would be named, "Mercedes 35 hp" and it was a very important advancement in automobile design. The contract called for delivery of the first automobile to Jellinek in the Fall, but it did not reach him until December 22, 1900. He became obsessed with the name—Mercedes—and even had his name changed to Jellinek-Mercedes. Jellinek was invited to sit on the DMG board of directors, which he did from 1901 until 1909, when he retired from automotive activities in favor of diplomatic appointments.
The name change also was helpful in preventing legal troubles, because after the death of Daimler, DMG had sold exclusive rights to the name, Daimler, and technical concepts to companies abroad. As a result, luxury automobiles branded Daimler were, and still are, built in England. A fire that gutted the old Steinway piano factory in New York, which had been converted to produce the new Mercedes models, cut short the dream of American production.
The rival companies of Daimler-Motoren-Gesellschaft (DMG) and Benz & Cie. started to cooperate in 1924, due to necessity arising from a troubled German economy after World War One, and finally merged in 1926 to become Daimler-Benz AG, which produced Mercedes-Benz automobiles and trucks. The merger agreement established that the two companies were required to remain together until 2000. While focusing on land vehicles, Mercedes-Benz also built engines to power boats and airplanes (military and civil), and even Zeppelins. Karl Benz died in 1929.
During the Second World War, Daimler-Benz is known to have exploited more than 30,000 forced workers and prisoners of war, some of whom would eventually strike, and be sent to concentration camps. This working force soon became essential to the production capacity of the company after 1941, and was a key to the construction of Nazi Germany's Luftwaffe and war machine.
Although the brand is most famous for limousine models, a significant number of notable sports cars also have been produced. For example, the early supercharged SSK developed by Ferdinand Porsche. Another distinctive model was the iconic 300SL Gullwing of 1954; that was suggested by Max Hoffman, explicitly for the USA market, and introduced at the New York Autombile Show.
Mercedes-Benz has also produced higher volume, less expensive cars. Interestingly, the prototypes of the Volkswagen were built and tested in Stuttgart, in cooperation with Porsche. Before that, Mercedes-Benz had a similar rear-engined, yet rather unsuccessful, small car, the 130 H. In recent years Mercedes have produced the relatively cheap A-Class. Also the Smart brand of small affordable automobiles has been part of the Mercedes-Benz Group since 1994 and are still producing cars today in conjunction with DaimlerChrysler AG.
Motorsport
Both companies founding the brand, Mercedes-Benz, when they merged in 1926 were successful in motor racing throughout their separate histories. Both had entries in the first automobile race Paris to Rouen 1894.
The Mercedes Simplex of 1902, built by DMG, was the first purpose built race car—much lower than their usual designs—which were similar to horse carriages; that model dominated racing for years. In 1914, just before the beginning of the First World War, the DMG Mercedes 35 hp won the French Grand Prix, which was a blow to the French at that time.
Karl Benz's company, Benz & Cie. built the "bird beaked", Blitzen Benz that set land speed records several times, reaching 228.1 km/h in 1909. That record gained that model the reputation of being faster then any other automobile—as well as—any train or plane. They constructed many aerodynamically designed race cars. The Benz Tropfenwagen is described as having a teardrop shape and it was introduced to motorsport in the 1923 European Grand Prix at Monza.
In the 1930s, the new joint company, Daimler-Benz, with their mighty Mercedes-Benz Silver Arrows, dominated Grand Prix racing in Europe together with its rival, Auto Union, while setting speed records up to 435 km/h (270 mph). The team was guided by the big Rennleiter Alfred Neubauer until the company ceased racing.
In 1952, Mercedes-Benz returned to racing with their small and underpowered gull-winged Mercedes-Benz 300SL, which won the 24 hours of Le Mans, the Carrera Panamericana, and did well in other important races such as the Mille Miglia. On 4 July 1954 Mercedes-Benz returned to Formula One racing with a one-two win at the French Grand Prix with the Mercedes-Benz W196. Mercedes-Benz dominated Grand Prix and sports car racing until retiring its teams at the end of the 1955 season, as planned at the beginning of that year. In addition, the Le Mans 1955 disaster, where a Mercedes-Benz 300SLR collided with another car and killed more than eighty spectators, caused the cancellation of several races that year.
Mercedes-Benz entered some big limousines in Rallying in the 1960s and late 1970s. It was intended to enter Rally racing with the Mercedes-Benz W201 in the early 1980s. Yet, as all wheel drive and turbochargers were introduced by the competition (Audi Quattro) at that time, this was cancelled. Instead, on August 13–21, 1983 at the Nardo High Speed Track in southern Italy, the new compact-size W201 190 class, sporting a 16-valve engine, built by Cosworth, broke three FIA world records after running almost non-stop (only a 20-sec pit stop every 2 1/2 hours) in a total of 201 hours, 39 minutes, and 43 seconds—completing 50,000 km at maximum speed of 247 km/h. It went on to become the 190E 2.3-16 touring model. Mercedes-Benz returned to sports car racing, (Sauber-Mercedes-Benz winning the 24 Hours of Le Mans in 1989) and DTM touring car racing in the late 1980s.
In 1994, the Indianapolis 500 was won with an engine from Mercedes-Benz which, realizing that a loophole in the rules for production-based engines would include any pushrod engine, built a very unusual purpose-built pushrod engine with a significant power advantage. This was done knowing that the "forgotten" loophole would be closed immediately after they took advantage of it, and so the engine would in fact be usable only for this single race.
McLaren
In 1993 Mercedes-Benz made its return to Formula One as an engine supplier to the debut F1 team Sauber, with a V10 engine manufactured by Ilmor. In 1995, the normally aspirated Mercedes-Benz-Ilmor F1-V10 moved to McLaren, replacing Peugeot. Mercedes-Benz increased its shareholding in the Ilmor company in 1996 and took full control in 2005. They have continued to design and build engines for McLaren. In the opening race of the 1997 Formula One season David Coulthard produced victory for Team McLaren Mercedes-Benz, and ushered in a new era of success.
It was a significant result in racing, McLaren's first victory for three seasons and the first win for Mercedes-Benz since Juan Manuel Fangio's success at the 1955 Italian Grand Prix. McLaren and Mercedes-Benz went on to win one constructors' championship in 1998 and two drivers' championships in 1998 and 1999. However, recent years have seen a significant decline in Mercedes-Benz's F1 success, as they won just four races over three years, while suffering numerous engine failures and retirements. The 2005 season was much more successful for McLaren, winning ten of the nineteen races, but finishing second to Renault in the constructor's title, and with its driver Kimi Räikkönen finishing second in the Driver's title to Fernando Alonso of Spain. The 2006 season seems to indicate a return to the F1 front for the English-German outfit and their "silver arrows" (Silberpfeile).
Mercedes-Benz and McLaren have, in 2003, jointly created a supercar. The Mercedes-Benz SLR McLaren has a carbon-fiber body with a 5.4l V8 supercharged engine. This is the same block as featured in other Mercedes-Benz automobiles, such as the SL55 AMG and the CLS55 AMG, it has however been tweaked to give 617 bhp and 780nm of torque. The SLR has a maximum speed of over 330km/h and costs approximately $500,000.
In the future many anticipate there to be a range of McLaren--Mercedes supercars in Woking (McLaren's manufacturing headquarters). The most recent new joint-venture model, expected to reach production, is the mid-engine P8 supercar. Based around a unique carbon fibre monocoque, manufactured by McLaren, the P8 was originally predicted to receive the new naturally aspirated 6.2L V8 from Mercedes-AMG, but experts now say that the engine will be modified for the car and will probably be twin-turbocharged to produce in excess of 600 bhp. The car is still in development, but likely to reach production to go on sale in early 2008, and have a price tag less than that of the SLR.
Business Alliances
Studebaker-Packard Corporation
In 1958 Mercedes-Benz entered into a distribution agreement with the Studebaker-Packard Corporation of South Bend, Indiana (USA), makers of Studebaker and Packard brand automobiles. Under the deal, Studebaker would allow Mercedes-Benz access to their U.S. dealer network, handle shipments of vehicles to those dealers, and in return receive compensation for each car sold. Studebaker also was permitted to use the German automaker's name in its advertisements, which stressed Studebaker's quality over quantity.
When Studebaker entered into informal discussions with Franco-American automaker Facel Vega about offering their Facel Vega Excellence model in the United States, Mercedes-Benz objected to the proposal. Studebaker, which needed Mercedes-Benz distribution payments to help stem heavy losses, dropped further action on the plan.
Mercedes-Benz maintained an office within the Studebaker works in South Bend from 1958 to 1963 when Studebaker's U.S. operations ceased. Many U.S. Studebaker dealers converted to Mercedes-Benz dealerships at that time. When Studebaker closed its Canadian operation and left the automobile business in 1966, remaining Studebaker dealers had the option to convert their dealerships to Mercedes-Benz dealership agreements.
Gallery
Cars manufactured by Mercedes-Benz:
Trending pages
All items (91)
Community content is available under
CC-BY-SA
unless otherwise noted.