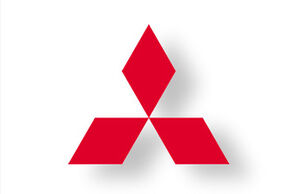 Mitsubishi Motors Corporation (Mitsubishi Jidōsha Kōgyō Kabushiki Kaisha) is the fourth largest auto-manufacturer in Japan, and in 2006 was ranked 782nd on Forbes' list of the 2000 largest public companies. It is part of the Mitsubishi keiretsu, or conglomerate, formerly the largest industrial group in Japan. "Mitsubishi" is Japanese for 'three diamonds'.
Background
Early history
Mitsubishi's automotive origins date back as far as 1917, when the Mitsubishi Shipbuilding Co. Ltd. introduced the Mitsubishi Model A, Japan's first series-production automobile. An entirely hand-built seven-seater sedan based on the Fiat Tipo 3, it proved expensive compared to its American and European mass-produced rivals, and production was discontinued in 1921 after only 22 had been built.
Meanwhile, in 1920, the Mitsubishi Internal Combustion Engine Co., Ltd. was established to manufacture aircraft engines. It was renamed the Mitsubishi Aircraft Co. in 1928, before being merged with Mitsubishi Shipbuilding in 1934 to create Mitsubishi Heavy Industries (MHI).
Post-war years
At the end of the Second World War, the zaibatsu (Japan's family-controlled industrial conglomerates) were dismantled by order of the Allied powers and Mitsubishi Heavy Industries was split into three regional companies, each with an involvement in motor vehicle development. The country's major need at this time was for commercial vehicles, the situation being further complicated during the first few years by a severe fuel shortage. Passenger vehicle production was confined primarily to Mitsubishi's first scooter.
By the beginning of the 1960s, however, Japan's economy was gearing up: wages were rising and the idea of family motoring was taking off. The Mitsubishi 500, a mass market sedan, was introduced to meet this demand, followed in 1962 by the Minica four-seater subcompact car, and the Colt family car. The three regional automotive companies were reintegrated as Mitsubishi Heavy Industries in 1964, and within three years their output was over 75,000 vehicles annually. Following the successful introduction of the first Galant in 1969 and similar growth with its commercial vehicle division, it was decided that the company should create a single operation to focus on the automotive industry. Mitsubishi Motors Corporation (MMC) was formed in 1970 as a wholly-owned subsiduary of MHI under the chairmanship of Tomio Kubo, a successful engineer from the aircraft division.
Chrysler connection
1970s
Part of Kubo's expansion strategy was to increase exports by forging alliances with well-established foreign companies. Therefore, in 1971 MHI sold US automotive giant Chrysler a 15% share in the new company. Thanks to this deal, Chrysler began selling rebadged Galants in the United States as Dodge Colts, pushing MMC's annual production beyond 250,000 vehicles.
By 1977, a network of "Colt" distribution and sales dealerships had been established across Europe, as Mitsubishi sought to begin selling vehicles directly. Annual production had by now grown from 500,000 vehicles in 1973 to 965,000 in 1978. However, this expansion was beginning to cause friction; Chrysler saw their overseas markets for subcompacts as being directly encroached by their Japanese partners, while MMC felt the Americans were demanding too much say in their corporate decisions.
1980s & MMAL
Mitsubishi finally achieved annual production of one million cars in 1980, but by this time its ally was not so healthy; As part of its battle to avoid bankruptcy, Chrysler was forced to sell its Australian manufacturing division to MMC that year. The new Japanese owners renamed it Mitsubishi Motors Australia Ltd (MMAL), and since then it has stood as the largest car production facility in the country outside of Ford and General Motors. It currently builds the Mitsubishi 380, as well as importing Chryslers and Jeeps from the US. However, recent troubles in this market, coupled with its parent company's financial difficulties, have put its long-term future in jeopardy.
To introduce themselves in October of 1982, a modest lineup of models prove sufficient. These were the Cordia, Tredia, Montero, 2WD and 4WD trucks, and of course, their Flagship, the Starion.
The Starion was to be designed and built to go head to head with other Japanese sports coupes that were now enjoying an exclusive niche in the US market. These were the Datsun 280ZX, powered by an in-line-6, and the Toyota Celica Supra, also with an inline 6. Needless to say, Mitsubishi's quick little 4 cylinder turbo sent Datsun and Toyota scrambling back to the design departments for turbos of their very own!
Chrysler also released the Starion under their own banner in 1984, displaying the name "Conquest," and they played a major role in refining the cars capabilities and appearance. With joint cooperation between the two industry leaders, we saw the Star/Quest grow and mature through its 7½ ~year production life. while other manufacturers were redesigning their whole car, in an attempt to stay ahead. The Star/Quest, however, simply got better, proving an already excellent design.
In 1982, the Mitsubishi brand was introduced to the American market for the first time. The Tredia sedan, and the Cordia and Starion coupés, were initially sold through 70 dealers in 22 states, with an allocation of 30,000 vehicles between them. This quota, restricted by mutual agreement between the two countries' governments, had to be included among the 120,000 cars earmarked for Chrysler. Toward the end of the 1980s, as MMC initiated a major push to increase its US presence, it aired its first national television advertising campaign, and made plans to increase its dealer network to 340 dealers. By 1989, Mitsubishi's worldwide production, including its overseas affiliates, reached 1.5 million units.
Diamond Star Motors
Despite the ongoing tensions between Chrysler and Mitsubishi, they agreed to unite in a vehicle manufacturing operation in Normal, Illinois. The 50/50 venture provided a way to circumvent the voluntary import restrictions, while providing a new line of compact and subcompact cars for Chrysler. Diamond Star Motors (DSM) - from the parent companies' logos: three diamonds (Mitsubishi) and a pentastar (Chrysler) - was incorporated in October 1985, and in April 1986 ground was broken on a 1.9 million square-foot (177,000 m²) production facility. In 1987, the company was selling 67,000 cars a year in the United States, but when the plant was completed in March 1988 it offered an annual capacity of 240,000 vehicles. Initially, three platform-sharing compact 2+2 coupés were released, the Mitsubishi Eclipse, Eagle Talon and Plymouth Laser, with other models being introduced in subsequent years.It is now the largest car production factory in the world.
In 1991, Chrysler sold its equity stake to its partner, and from then on they continued to share components and manufacturing on a contractual basis only. DSM was officially renamed to Mitsubishi Motor Manufacturing of America, Inc. (MMNA) on July 1st, 1995.
1988 IPO
Mitsubishi Motors went public in 1988, ending its status as the only one of Japan's eleven auto manufacturers to be privately held. Mitsubishi Heavy Industries agreed to reduce its share to 25%, retaining its position as largest single stockholder. Chrysler meanwhile increased its holding to over 20%. The capital raised by this initial offering enabled Mitsubishi to pay off part of its debts, as well as to expand its investments throughout south-east Asia where it was by now operating in the Philippines, Malaysia, and Thailand.
1990s
Hirokazu Nakamura became president of Mitsubishi in 1989 and steered the company in some promising directions. Sales of the company's new Mitsubishi Pajero were bucking conventional wisdom by becoming popular even in the crowded streets of Japan. Although sales of SUVs and light trucks were booming in the United States, Japan's car manufacturers dismissed the idea that such a trend could occur in their own country. Nakamura, however, increased the budget for sport utility product development, and his gamble paid off; Mitsubishi's wide line of four-wheel drive vehicles, ranging from the Pajero Mini to the large Delica Space Gear, rode a wave of SUV-buying in Japan in the early to mid-1990s. Narrowly following Toyota in the SUV market in Japan, Mitsubishi saw its overall domestic share rise to 11.6% in 1995.
After decreasing its interest in Mitsubishi to less than 3% in 1992, Chrysler announced its decision to sell off all of its remaining Mitsubishi shares on the open market in 1993. The two companies stated that they would nevertheless continue their close alliance, with Chrysler supplying engines and transmissions for DSM, and Mitsubishi marketing Chrysler products in Japan.
Motorsport
Mitsubishi has almost half a century of international motorsport experience, predating even the incorporation of MMC. Beginning with street races in the early 1960s, the company found itself gravitating towards the challenge of off-road racing. It dominated the East African Safari Rally in the '70s, the Dakar Rally from the '80s, and the Group A and Group N classes of the World Rally Championship through the '90s. Mitsubishi entered the 1962 Macau Grand Prix in an effort to promote sales of its first passenger vehicle since the end of the Second World War. In an auspicious debut, the diminutive rear-engined sedan swept the top four places in the "Under 750 cc" category, with Kazuo Togawa taking class honours.
Colt 600 ~ Demand for Mitsubishi products boomed in the wake of the Macau victory, and the Colt 600 was developed to expolit this new market. Based on the 500 but with a larger engine and redesigned rear, it swept the podium in the 1963 Malaysian GP with a 1-2-3 in the "Under 600 cc" class.
Colt 1000 ~ In its final year of competition with Touring Cars, Mitsubishi scored another clean sweep of the podium, this time in the 1964 Japanese GP. The 1000, their first front-engined competition vehicle, dominated the "750-1000 cc" class.
Formula racing ~ Mitsubishi began concentrating on open-wheeled racers for the remainder of the '60s, as the Japanese GP grew in popularity. Their F3A was a 1000 cc OHV, and won the "Exhibition" class in 1966. The following year, with a bored-out 1600 cc OHV F2A, they scored a class 1-2 with drivers Mochizuki and Osamu Masuko. Another Japan GP class 1-2 was Mitsubishi's in 1968 with a DOHC 1600 cc F2B, while the F2C & F2D', devloped to keep pace with aerodynamic innovations of the era, scored further podiums in 1969-70. They finished on a high with success in the 1971 Japan GP with the two litre DOHC F2000, before taking their expertise off-tarmac.
The East African Safari Rally was by far the most gruelling event on the WRC calendar in the '70s. MMC developed the 1600 GSR specifically for the marathon race, and won at the first attempt in 1974. Even more impressively, they achieved a clean sweep of the podium places in 1976, a remarkable feat in an event where only 20% of the starters typically reached the finish. They also achieved a 1-2-3-4 in the 1973 Southern Cross Rally, the first of four consecutive victories in this event with drivers Andrew Cowan and Kenjiro Shinozuka.
Galant VR-4, Lancer Evolution (Group A) ~ After scoring its first outright WRC victories with a Galant in the late '80s, Mitsubishi homologated the Lancer, and in the hands of Finland's Tommi Makinen, winner of the Drivers' title for four consecutive years (1996-1999), they won the Manufacturers' Championship in 1998. They have won 34 WRC events since 1973.
Lancer Evolution (Group N) ~ The Lancer Evo has utterly dominated the FIA championship for showroom-ready cars, winning seven consecutive titles with four different drivers from 1995-2001. Even in 2002 when it ostensibly lost the title, the class-winning manufacturer was Proton, using a Lancer Evo-based Pert.
Pajero ~ Mitsubishi is the most successful manufacturer in the history of the Dakar Rally, one of the most challenging and dangerous motorsport events in the world. MMC's maiden entry was in 1983, and it took only three attempts to find a winning formula. Since then, they have won in 1992, '93, '97, '98, and '01-'06, an unprecedented six consecutive victories and the eleventh overall with nine different drivers.
Cars manufactured by Mitsubishi:
Trending pages
All items (38)
Community content is available under
CC-BY-SA
unless otherwise noted.