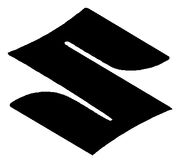 The Suzuki Motor Corporation is a Japanese manufacturing company producing a range of small automobiles (especially Keicars), a full range of motorcycles, outboard motors, and a variety of other small combustion-powered engine products. It has main production facilities located in 22 countries and areas around the world. Suzuki has teamed up with local Indian company Maruti and the partnership has made them India's largest automobile sellers.
The company is currently headed by Osamu Suzuki as chairman and CEO.
History
1909 — The company started out as Suzuki Loom Works. It was founded in Hamamatsu, Shizuoka Prefecture Japan, by Michio Suzuki.
1952 — It created the motorized bicycle, called Power Free, which featured a 2x36cc engine. This bike was popular, so in 1954 it introduced a second bicycle.
1954 — The company's name changed to Suzuki Motor Corporation. In 1955 Suzuki introduced its first mass-produced car, the Suzulight.
1970s — The models Suzuki Fronte (in different variations such as the 360 or the Viola) and Suzuki Jimny were produced.
1981 — General Motors purchases 5% of Suzuki shares
1998 — GM purchases additional shares for a 10% stake
2001 — GM's share is up to 20.4%
March, 2006 — GM divested, selling 92.36 million shares and reducing their stake to 3% in order to raise $2 billion. Suzuki still owns 11% of GM Daewoo Auto and Technology.
Cars manufactured by Suzuki:
All items (15)
Community content is available under
CC-BY-SA
unless otherwise noted.